The Little Flower Pot Bible object lesson will delight your preschoolers as they learn the truth that God has a purpose for every one of us.
The Little Flower Pot Bible object lesson has become one of my favorite lessons to share with young children to help them learn that God has a plan for every person He has lovingly created. This Bible object lesson uses a simple "magic" trick called the "Magic Flower Pot and Wand" by Melissa and Doug. This trick is very easy to use. It comes to life along with the story that I have written to go along with it.
Take a look at this sample presentation of the lesson:
Click HERE to learn how to purchase this downloadable Bible object lesson script and instructions.
The first 3 people to leave a comment below will receive The Little Flower Pot Bible object lesson for FREE. Once you leave your comment, I will send you and email with the link to the product.
From the little flower pot, your preschoolers will be introduced to a flower pot who has never had a flower grow from her little pot. All the other flower pots around her seem to always have plants growing from their containers. But not this little flower pot. She begins to feel sad and wonders what her purpose is.
Take a look at a sample of the script below to understand the feelings of the little flower pot – feelings many of us have had in our own lives:
Once there was a little flower pot
Feeling sad and blue
Because she didn't have a pretty flower
Out of her pot that grew
All the other little flower pots
Had flowers growing big
But this little flower pot
Couldn't even grow a twig
"What's the matter with me?"
The flower pot felt bad
"Why am I so different?"
"I'm feeling very sad."
But then one day
While the flower pot was feeling blue
A man came and picked her up
What was he going to do
The man was dressed in black
From his head to his toe
And he carried a big stick in his hand
The kind used in a magic show
The man took the flower pot
And shined her pot till it glowed
Maybe now she would grow a flower
One that she would be proud to show…
This is just a sample of this sweet story and a little flower pot that learned God had a special plan just for her.
Click on the link below to get your own "Little Flower Pot" from Melissa and Doug:

If you'd like another lesson about the purpose of God that He has for each of us, try this lesson called "God's Design with a Purpose," which is perfect for your elementary kids: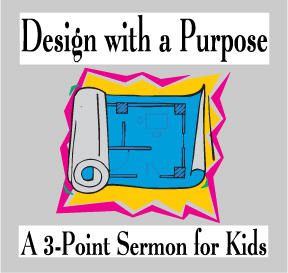 If you liked this idea for sharing The Little Flower Pot Bible object lesson, then sign up to receive Scripture Lady's Free Email Kid Tips packed full with creative ideas and receive 12 FREE Bible downloadable resources to help get the kids you minister to excited about the Bible! Just go to www.MyFreeBibleGames.com to fully subscribe.
Also, don't forget to "LIKE" me on Facebook. Thank you!