Invite the Scripture Lady to present her preschool Bible song program "We Can Learn About God from the Animals" – a fun Scripture-filled musical presentation for young hearts.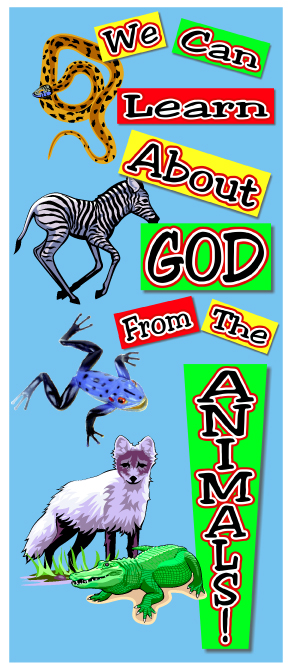 God cares about animals. We know it's true because He was careful to save them on the ark and not a sparrow falls to the ground without Him knowing it.
But did you know that we can learn about God from the animals? It's true! And your preschoolers will be delighted when the Scripture Lady teaches them about the character of God through 3 different animals – the fox, the lion, and the monkey.
"We Can Learn About God from the Animals" is full of lively Bible verse songs, Bible skits and games all designed to get your little ones knowing more about God's character.
Here is a quick outline of the program:
Bible Song #1: "Noah's Floating Zoo" (by CEF) – Any program having to do with animals in the Bible HAS to share the story of Noah and the Ark. Kathy starts her program off by singing one of Child Evangelism Fellowship's favorite songs about Noah's floating zoo!
Teaching Point #1: The fox is faithful. God is faithful too! The children will be introduced to the swift fox and learn that the daddy fox is faithful to its mate and children. He provides food for them and protects them too. God is faithful to His children also and will never leave them or forsake them.
A Scripture Lady Hymn: "Trust and Obey" – Part of being faithful to God is learning to trust and obey Him. This wonderful old hymn put to a modern beat is a perfect way to share this truth with little ones.

Bible Game #1: "Who Made That Oink?!" – Many of us would have loved to have been on Noah's Ark! But do you think it might have gotten noisy? Here is a fun Power Point game your preschoolers will enjoy to help them learn the sounds of animals.
Teaching Point #2: The lion is patient. God is patient too! – Interestingly, it's the mommy lion who provides the food for her family. To do so, she must wait patiently when hunting for her next item on the menu. God is patient with us. He doesn't hunt us! But He does wait for each of us to turn to Him and accept His wonderful love.
Bible Verse Song #1: "I Waited" (Psalm 40:1) – This Bible verse says, "I waited patiently for the Lord. He turned to me and heard my cry." Preschoolers are not very patient, but it is definitely a character trait that needs to be encouraged when they are young. They too can learn that God will hear their cries.
Bible Game #2: "Fishing for Faithful Bible Friends" – Fishing takes a lot of patience. This fun Bible game will get your preschoolers thinking about people in the Bible who were also patient and faithful to God while doing a little "fishing" at the same time.
Teaching Point #3: The monkey is wise. God is wise too! – There is a type of monkey in Japan who is very wise when gathering his food. He knows how to separate what's good to eat from what is bad. God wants us to know good from bad too and be wise in our choices.
Bible Song #2: "The Monkey Song" (by CEF) – Here is another favorite Bible song from Child Evangelism Fellowship which proclaims the truth that we do not come from monkeys, but that God created each of us.
Bible Game #3: "Animals in the Bible" – What were the beautiful birds in Solomon's temple? Or what animal did Jesus ride on when He entered Jerusalem? The Bible is filled with animals and this is a fun way to learn about some of them especially when the Scripture Lady brings out her "Bible Story Tapper!"
A Scripture Lady Hymn: "All Creatures of Our God and King" – To end this program, Kathy encourages all the children that all of us, even the animals, belong to God. This great old hymn put to a modern beat will help end this presentation in a sweet memorable way.
I hope this outline is helpful and will help you decide to book your program today of "We Can Learn About God from the Animals."
"We Can Learn About God from the Animals" can last from 30 to 45 minutes
depending on your time constraints. 
It is appropriate for children ages 2 through 6.
To book your program, contact
Kathy Vincent at 714-331-7192 or email her at
thescripturelady@gmail.com
**************************************************************
WHAT CAN YOU EXPECT WHEN THE SCRIPTURE LADY
PRESENTS HER BIBLE SONGS FOR Preschoolers
AT YOUR CHURCH OR SCHOOL?
* A clear and accurate presentation of the Bible for preschoolers.
* Easy to remember Bible songs for kids
accompanied by fun and appropriate moves.
 * Loads of props and visuals to keep ALL the children focused and attentive.
 * A visually colorful and inviting stage setup.
 * Total audience participation.
 * And LOTS of fun!
**************************************************************
BOOK YOUR PROGRAM TODAY!
"I waited patiently for the Lord. He turned to me and heard my cry."
Psalm 40:1
(Click HERE for a sample of this Bible Verse Song.)