Invite Kathy Vincent, The Scripture Lady, to encourage and train your teachers through one or more of her teacher training workshops.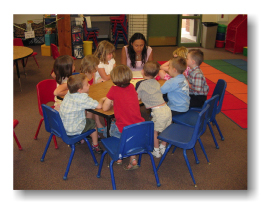 One of the greatest preachers of the 19th century, CH Spurgeon, said this:
He who teaches a class in a Sabbath (Sunday) school has earned a good degree. I had rather receive the title of SST (Sunday School Teacher) than MA, BA, or any other honour that ever was conferred by men. Let me beg you, then, to take heart, because your duties are so honourable." (From Come Ye Children by CH Spurgeon.)
Being in children's ministry is an honor and it is our prayer that you would be well trained for your God-given calling. Teaching the Bible to children of the 21st century is not for the fain of heart. Many of the children walking into your classrooms come from homes, Christian or otherwise, that are full of stress and strife. Many of them face challenges you yourself have never seen. Our children need to know that:
God loves them.
God is in control.
God's Word is true and is trustworthy.

God can successfully navigate them through life.
According to research done by George Barna, 32% of children will receive Jesus Christ as their Savior between the ages of 5 and 13 years old.  The percentages rapidly diminish from that point on. This is compelling information to motivate our churches to pour their resources into their children's ministries.
Sadly, most teachers, though they may have a huge heart to serve children, are greatly lacking in training. Because of this, they end up frustrated and burned out. However, success in teaching children about Jesus can happen when you take the time and invest in good, practical children's ministry training workshops.
So what can a  Scripture Lady Teacher Training Workshop do for you?
It will energize your teachers with creativity and enlarge their hearts for children.
It will teach practical ways to engage your kids with the Word of God and make it applicable to their lives.
It will teach you how to have a dynamic and disciplined classroom.
It will teach you to "think out of the box" and incorporate today's technology to keep the children's interest.
It will inspire you and remind you why you became a Christian children's worker in the first place.
Here are the titles of workshops that Kathy currently offers:
Workshop #1:  How to Have a Dynamic and Disciplined Classroom

Workshop #1:
One of the biggest struggles teachers of any kind have is maintaining order and discipline in their classrooms. The children in your classroom come from varying backgrounds and with different behavioral issues. Are there really "tricks of the trade" that can be implemented so that class time can be fun and fulfilling for all involved?  You bet there are!  And this workshop is designed to give you some practical steps you can take to have a dynamic and disciplined classroom with your children.
Workshop #2:  Make God's Word Stick Like Glue

Workshop #1:
Teaching the Bible to children is one of the highest callings we have. God desires that we hide His Word in our hearts and minds. (Psalm 119:11) But how do we get our kids excited about the Bible? How do we make it engaging at their level of understanding? This workshop has taken on the challenge of answering these questions. You will be presented creative ways to use Bible verse songs, colorful hands-on props and super memory verse games to get your kids excited about God's amazing Word.
Workshop #3:  5 Ways to Make Children's Church the Best Time of the Week

Workshop #1:
It's almost Sunday and you still aren't sure what you would like to do for your lesson. Sure, you have a curriculum to follow, but sometimes it falls flat and lifeless with a thud in front of your kids. How can you "spice" things up a bit and make Sunday School the best time of the week? Including these 5 types of creative ideas will inject life into even the dullest classroom: Easy to Do and Sing Music, Brilliant Bible Review Games, Engaging Object Lessons, Creative Storytelling and Effective Ways to Share the Gospel.
Workshop #4:  How to Sing and Share the Gospel

Workshop #1:
One of the greatest privileges we have as Sunday School teachers is to share the gospel of Jesus Christ to the children God has place under our care. Sadly, however, most teachers feel ill-trained to share the Good News and therefore ignore it all together or leave it to someone "more experienced." As Christians, we are called to proclaim the gospel. Therefore, it is important that each of us know how to do so effectively. Yes. The Holy Spirit is the One who brings the person to salvation. There is no magic prayer or presentation. However, there are important points we should know like the back of our hands when given the opportunity to lead a child to Christ. This workshop will address those points through the use of music and other creative means.
Workshop #5:  A Bonanza of Bible Review Games

Workshop #1:
At ScriptureLady.com, we believe that a Bible review game should be a sermon and game all rolled into one. Mary Poppins was right: "A spoonful of sugar helps the medicine go down." This workshop will present many great tried and true Bible review games that your kids will ask for again and again. You will learn what it takes to host a great Bible game and will be directed to the necessary resources.
Workshop #6:  10 Bible Object Lessons with a Magical Twist

Workshop #1:
The Scripture Lady LOVES Bible object lessons! She know that props and objects are great visuals for helping your children stay engaged with God's amazing Word. This workshop will present 10 very creative object lessons designed to teach the truths of the Bible with a little "magic" thrown in for good measure.
What Does it Take to Book a Scripture Lady Teacher Training Workshop?
A desire to see your children's workers encouraged and edified.
A room big enough to accommodate your teachers as well as all of her great props and tools.
The supply of four 6′ to 8′ tables for props and products.
A Scripture Lady workshop is very affordable. We want to bless you and work within your budget. Please browse through our Workshop Packages to choose the one best for you and your ministry.
You also might want to throw in some refreshments to keep your teachers extra happy.
Lastly, contact Kathy Vincent, The Scripture Lady,
at 714-331-7192 or email her at 
thescripturelady@gmail.com
to book your day of encouragement!
"For what I received I passed on to you as of first importance: that Christ died for our sins according to the Scriptures, that he was buried, that he was raised on the third day according to the Scriptures…"
1 Corinthians 15:3-4