Invite the Scripture Lady to present her elementary Bible song program "Make Every Effort" – a fun Scripture-filled musical presentation based on 2 Peter 1:5-7.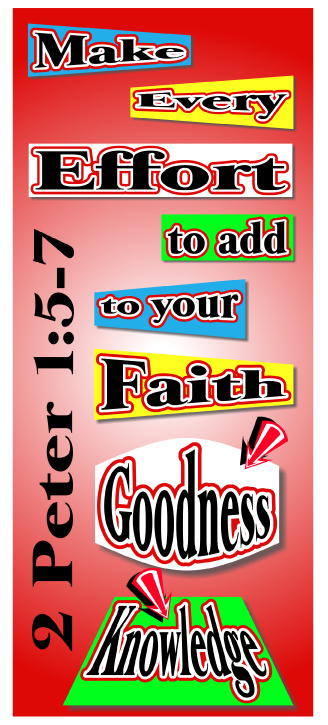 The Scripture Lady would love to have the opportunity to share how your children can grow in their relationship with God according to Second Peter 1:5-7, which says:
"Make every effort to add to your faith, goodness and to goodness, knowledge and to knowledge, self-control. and to self-control, perseverance, to perseverance, godliness and to godliness, brotherly kindness and to brotherly kindness, love."
What a great truth to share with our young ones who are growing in their faith in God. This program will challenge your kids to grow in areas that this wonderful verse proclaims through Bible verse songs, Bible review games and creative Gospel Magic object lessons.
Here is a quick outline of the program:
The performance begins with Scripture Lady's lively song Make Every Effort (2 Peter 1:5-7)
The children are then encouraged to learn a little bit more about each of the ways Peter asks us to grow in our faith in God.
The first area of growth is our faith. Using a fun and simple object lesson using a tennis ball, golf ball and some beans, Kathy shows the children that no matter what, they need to put their faith in God first. If they do, everything else in their lives will fall into place.
The next area of growth is goodness. The Bible says that only God is truly good. In fact, He is the Good Shepherd and we must all learn to hear His voice lead us into truth. Kathy plays a fun audience participation game called "The Good Shepherd's Voice" to teach this important lesson.
The next area of growth is knowledge. There is so much to learn about God and His Son Jesus from the Bible. One of the biggest

truths our kids can learn is that God will never leave them or forsake them. He has them in the palm of His hands. In fact, He's got the whole world in His hands! So this is a perfect time for everyone to sing along with the old classic song, He's Got the Whole World in His Hands
After we grow in knowledge, we should move onto self-control. At this point, Kathy breaks out one of her favorite games that audiences have loved for several years now called, "My Identity in Christ." This game is designed to encourage self-control while learning more about what it means to be a Christian.
Perseverance is up next and Run With Perseverance is the perfect Bible verse to sing and share with all the children on this topic.
God also wants us to grow in godliness – reflecting who He is. Jesus is the light of the world and wants us to be lights as well. Kathy will show your kids how to do this through a fun science experiment designed to be very "illuminating!"
As Christians, we need to show brotherly kindness to one another. Here is a chance for some of your kids to show their Bible knowledge as they compete to find verses in the Bible all about kindness with a game called "Bible Sword Drills."
Finally, Peter exhorts us to grow in our love for one another. The Scripture Lady showcases one of her favorite object lessons that will have your kids saying, "Wow! That's awesome!" They will learn that God indeed wants our love to grow and it will when pray and ask Him to cultivate His love in our lives.
The program then ends with Kathy and the children singing, Oh How I Love Jesus as a way to say "Thank you!" for all the ways that they can grow in God.
I hope this outline is helpful and will help you decide to book your program today of "Make Every Effort!"
"Make Every Effort!" can last from 30 minutes to a full hour 
depending on your time constraints. 
It is a clear presentation of the Gospel at an elementary level.
For bookings or more info, please call
Kathy Vincent, 
The Scripture Lady, at
 714-331-7192
or email me at
thescripturelady@gmail.com
 **************************************************************
What can you expect when the Scripture Lady presents
her Bible songs for kids at your church or school?
* A clear and accurate presentation of the Gospel for kids.
* Easy to remember Bible songs for kids
accompanied by fun and appropriate moves.
 * Loads of props and visuals to keep ALL the children focused and attentive.
 * A visually colorful and inviting stage setup.
 * Total audience participation.
 * And LOTS of fun!
**************************************************************
Book your Bible Song Program today!
"Make every effort to add to your faith, goodness and to goodness, knowledge and to knowledge, self-control. and to self-control, perseverance, to perseverance, godliness and to godliness, brotherly kindness and to brotherly kindness, love."
2 Peter 1:5-7