Invite the Scripture Lady to present her elementary Bible song program "Let's GROW in God!" – a fun Scripture-filled musical presentation for the spiritual growth of children.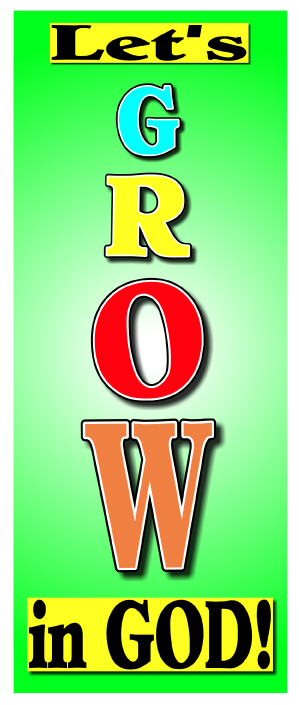 Do your kids know that growing in God is as simple as G-R-O-W? It's true.
We can grow in God by:
G – Going to church or a Bible-believing Bible study.
R – Reading the Bible and Praying every day.
O – Obeying God and doing what He says.
W – Witnessing or telling others about Jesus.
Let the Scripture Lady come and share these practical and fun steps to growing in their friendship with God. "Let's GROW in God" is filled with lively Bible verse songs, Bible games and an "electrifying" object lesson on prayer.
Watch this presentation of the GROW Talk.
Here is a quick outline of the program:
The Scripture Lady begins with one of her favorite Bible verse songs, "Know-ow-ow," from Psalm 100:3, which says, "Know that the Lord is God. It is He who made us and we are His. We are His people, the sheep of His pasture." This verse shows the kids that there is so much that God wants us to know about Him. He wants us to grow in our relationship with Him.
Watch this video of "Know-ow-ow."
Kathy then begins with the letter "G," which stands for going to church or a Bible-believing Bible study. One of the best ways we can learn about God is by learning all the wonderful Bible stories. Take for example the story of Zacheus. Kathy begins to share how Jesus wanted to spend time with Zacheus and that He wants to spend time with your kids too. She then shares her Bible verse song, "Seek and Save," and reminds the audience that Jesus has come into the world to seek and to save all who are lost. (Luke 19:10)
Watch this video of "Seek and Save."
To bring home this important truth, the kids get to play the very fun and funny Bible memorization game called "Bag It!"
The next point of growth comes from the letter "R" – Read your Bible and pray every day. The Scripture Lady loves singing how the Word of God is living and active and sharper than any double-edged sword. (Hebrews 4:12)  She also loves talking about the importance of prayer in our lives especially when sharing a "bright" presentation of an object lesson that uses a prop called "The Energy Stick." Of course, this is a great time to sing "The Lord's Prayer", African style!
The letter "O" will remind your children to obey God and do what He says. Soldiers are very good at obeying their commanding officer and we are to obey Almighty God. Put these two truths together and you have an audience favorite when singing "Be On" from 1 Corinthians 16:13. Next, the children get to compete with each other as they play "Bible Password" to help them learn about obedient and faithful people of the Bible.
Finally, your children will learn that they can grow in God when they choose to tell others about Jesus. At this point, Kathy is blessed to be able to share what a difference it made in her life when people shared Jesus with her. This provides a unique opportunity for children to give their own lives to Jesus if they have not done so already. To end the program, everyone sings the great classic hymn, "I Have Decided to Follow Jesus!"
I hope this outline is helpful and will help you decide to book your program today of "Let's GROW in God!"
"Let's GROW in God!" can last from 30 minutes to a full hour 
depending on your time constraints. 
It is a clear presentation of the Gospel at an elementary level.
For bookings or more info, please call
Kathy Vincent, The Scripture Lady, at
 714-331-7192
or email me at
thescripturelady@gmail.com
**************************************************************
What can you expect when the Scripture Lady presents
her Bible songs for kids at your church or school?
* A clear and accurate presentation of the Gospel for kids.
* Easy to remember Bible songs for kids
accompanied by fun and appropriate moves.
 * Loads of props and visuals to keep ALL the children focused and attentive.
 * A visually colorful and inviting stage setup.
 * Total audience participation.
 * And LOTS of fun!
**************************************************************
Book your Bible Song Program today!
"Know that the Lord is God. It is He who made us and we are His. We are His people, the sheep of His pasture."
Psalm 100:3