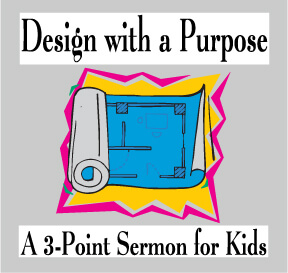 Is a child really ready to hear a sermon?  You betcha they are – if it is presented in a visually captivating and fun way with a message that is engaging and to the point.
My 3-point Bible object lessons are meant to draw your kids into a message for about 3 to 5 minutes of concentrated effort.  Just follow the steps below and I think you will find your kids asking for more of God's Word 3 points at a time.
Here's what you need:
You will need to make copies of all the cards on the pages I have provided below.  Attach card 2 to the back of card 1, card 4 to the back of card 3, card 6 to the back of card 5 and card 8 to the back of card 7.  I suggest you print them off onto cardstock and then laminate them.
Here's how to present the sermon:
Begin the sermon by holding up card 1.  This card is the "opener" to the sermon.  You will ask the questions listed on card 2 to help stimulate discussion.  When you get to the part where you ask a child to read a verse or verses from the Bible, make sure you have the
version ready you would like them to read from. The next card you will present is card 3.  One child will be holding this card.  I like to make a special sound like, "Ta-da-da-da!" to make things fun.  You could even encourage the child to do some kind of silly dance or movement when presenting each point card.  I find that incorporating actions like these help the kids stay engaged with what you are doing.  After presenting the "point 1" card, have the child turn the card over to reveal the picture that will match what you will say from the script I have provided for point 1 in the following pages below. Continue to follow this same format for points 2 and 3, but choose a new child for each point if available. Finally, end your 3-point sermon with a time of prayer.  You can read the prayer I have provided or come up with your own.
The 3-Point Sermon Script
Point One:  As a Christian, you believe that God designed you and made you.  He created every bone, muscle and tooth in your body.  He even knows how many hairs are on your head!
Point Two:  God has a special purpose for your life which He designed.  And the most important part of that plan is that Jesus is your Savior and that your sins have been washed by His blood.  (Point out the dark heart reminds us of the sin in our lives.  But when we ask Jesus to save us from our sins, He cleans our hearts of all our sin – pointing to the clean heart.)
Point Three:  Just like a carpenter builds a house brick by brick or board by board, Jesus is building your life.  He is careful to follow the design He made up just for you.  And when your life is done, you can trust that God designed and made your life just the way He wanted.  (Point out the different stages of life shown on the card.  You might ask the children what they think they will be doing at these different stages of life.  Remind them that God will be with them through every year of life and has a plan for every stage of life.)
Let us Pray:  Dear God, thank you so much that you have a plan for my life.  Thank you that your plan is specific just for me and my talents and life you have given me.  Thank you also that your plan for my life included the forgiveness of my sins.  Help me to live out your plan for my life.  Guide me and lead me because You know what is best for me.  Amen.
Printable Cards
Design with a Purpose Card One
Design with a Purpose Card Two
Design with a Purpose Card Three
Design with a Purpose Card Four
Design with a Purpose Card Five
Design with a Purpose Card Six
Design with a Purpose Card Seven
Design with a Purpose Card Eight
This 3-Point Bible Object Lesson for Kids was inspired by my reading of C.H. Spurgeon's devotional on Psalm 52:8 from his book Morning and Evening.  You too can be inspired by your favorite Christian authors and come up with your own 3-Point Sermon for Kids.
If you liked this Sunday School/Homeschooling idea, then sign up to receive Scripture Lady's Free Email Kid Tips packed full with creative ideas and receive 6 FREE Bible Review Games to help get the kids you minister to excited about the Bible!    Just go to www.MyFreeBibleGames.com to fully subscribe.
Also, don't forget to "LIKE" me on Facebook.  Just click on my Facebook logo to the right.  Thank you!
If you're into Twitter, click on the cute little bird!