Learn how Kathy Vincent, The Scripture Lady, can bless your special needs ministry in Orange County and Southern California
One of the greatest joys of the Scripture Lady is to use her gifts and talents by sharing the love of God with both children and adults with special needs. Currently Kathy teaches two different special needs Bible studies – one at Hope Christian Church of Tustin and one at EV Free Fullerton Church. Through creative means such as her own Bible verse songs, Bible review games and storytelling, Kathy is able to inspire students of all ages with varying developmental disabilities.
Watch this video of Kathy's performing group of adults with special needs.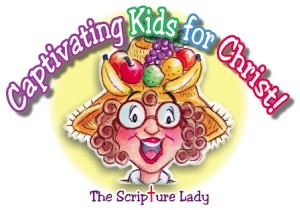 Let the Scripture Lady share
her Bible song programs with your
Special Needs Ministry to help them learn
God's amazing Word, the Bible!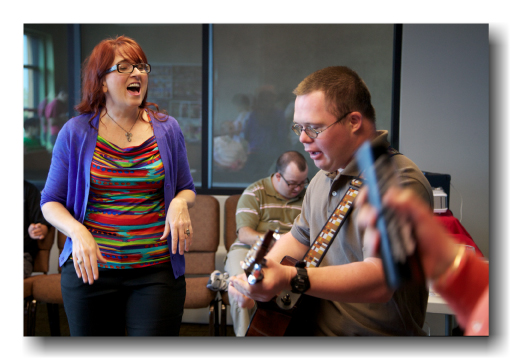 Ministering to the special needs community is one of The Scripture Lady's greatest blessings! Having worked with both children and adults with special needs for over 5 years, Kathy Vincent is a pro at making the Bible meaningful and engaging through her Bible Song programs. Each presentation is brimming over with fun-filled Bible verse songs and hymns. Everyone in your audience will feel like "Stars of the Show" as they perform all of Scripture Lady's easy to learn toe-tapping moves.
Through catchy tunes and eye-catching props your friends with special needs will be blessed as they learn about God's amazing Word. All performances are perfect for Sunday school time, or any special events.
WHAT CAN YOU EXPECT FROM A SCRIPTURE LADY BIBLE SONG PROGRAM?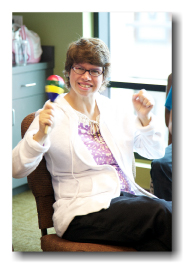 * A clear and accurate presentation of Scripture.
* Easy to follow- along-with Bible songs for your special needs students accompanied by fun and appropriate moves.
* Loads of props and visuals to keep the audience focused and attentive.
* A visually colorful and inviting stage.
* Total audience participation.
* And LOTS of fun!
"Kathy is an incredible teacher, able to identify and recognize the value and potential of all kids regardless of their abilities or disabilities."
 Connie HutchinsonDirector, Disabilities Ministry, EV Free Church of Fullerton, CA
"I have been impressed with Kathy's energy level, creativeness and imagination in teaching the students. She has a natural gift in relating to people with varied disabilities and has proved to be a wonderful asset to our teaching team."
Linda Smith, Disability Ministries Coordinator, Hope Christian Church, CA
Looking for a fun, educational Scripture-filled musical presentation for your special needs ministry? Then invite, Kathy Vincent, The Scripture Lady to share the Bible and its truths in memorable ways.
A Scripture Lady Bible Song Program will engage your special needs students and keep their focus on Jesus!  They will definitely walk away having heard and seen the Word of God presented in creative ways that are sensitive to both the chronological and emotional ages of your special needs community.
As a Bible study leader for special needs adults at 2 different churches, I have learned what it takes to keep the attention of our friends with special needs.
Through colorful props, creative skits and memorable Bible songs, my desire is that your special needs ministry will be greatly blessed!
A Bible Song Program is perfect for chapel times, Sunday school hours, VBS venues, Mid-week Bible times such as AWANAS or for any other special event. All my current programs are adaptable for any special needs community.
To book your Bible Song Program,
please contact
Kathy Vincent at 714-331-7192
or email us at thescripturelady@gmail.com.
"Be joyful because you have hope. Be patient when trouble comes and pray at all times."  
Romans 12:12