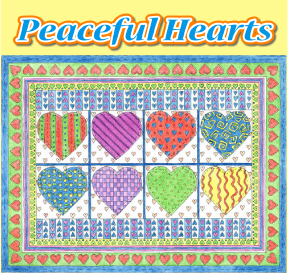 You would think that childhood would be one of the most peaceful times of life.  Unfortunately, however, many children are living in homes today that are far from peaceful.  If this is the case, and trust me it is, then we need to equip our kids with God's peace.  John 14:27 says this: "Peace I leave with you; my peace I give you. I do not give to you as the world gives. Do not let your hearts be troubled and do not be afraid."  Here is fun Bible school activity to help your kids get acquainted more with God's amazing peace, which passes all understanding.
Here's what you do:
For this game you will need to prepare 12 sets of P, E, A, C, and E cards.  On the backs of each set of cards you will choose 4 of the cards to contain a heart.  The fifth card will contain an "X".  Make sure the pictures cannot be seen through the other side.  Place all 12 sets of PEACE cards on a table or preferably on a pocket chart.  Finally, you will need a copy of the questions on peace found below.
How to play:
Divide your class into 2 teams.  A student will come forward and answer a quiz question based on a Bible verse about peace.  If he answers correctly he will get to choose a set of PEACE cards.  He will now get to choose up to 4 of the letters. For every letter he chooses that has a heart behind it, he will earn 100 points.  However, if he chooses a letter that contains the "X" he will lose any points he's accumulated for that round.  Play goes to the next team.
Before playing, you might want to introduce this game in the following way:
What do you think of when you think of peace?  (Wait for responses.)  Do you think you can have peace in difficult situations?  (Wait for responses.)  True peace only comes from God.  Even in the middle of a very difficult situation you can have peace.  The world's idea of peace does not last.  Jesus does not give the kind of peace the world gives. Who would like to read John 14:27?  (Wait for response.)  Now let's play a fun Bible review game to help us learn more about the peace that God gives.  It's called "Peaceful Hearts."
Bible Review Questions on Peace:
1.  Leviticus 26:3,6 says this: "If you follow my decrees and are careful to obey my commands…I will grant peace in the land, and you will lie down and no one will make you afraid. I will remove savage beasts from the land, and the sword will not pass through your country."
True or False:  This verse shows that God will bless His people with peace if they follow His commands.
2.  Numbers 6:24-26 says this: "The Lord bless you and keep you; the Lord make his face shine upon you and be gracious to you; the Lord turn his face toward you and give you peace."
True or False:  It is the Queen of England who is able to bless us with peace.
3.  Psalm 4:8 says this: "I will lie down and sleep in peace, for you alone, O LORD, make me dwell in safety."
True or False:  The Lord alone makes me dwell in safety.
4.  Psalm 34:14 says this: "Turn from evil and do good; seek peace and pursue it."
True or False:  I really don't have to look for peace and try to go after it in my life.
5.  Psalm 85:8  says this: "I will listen to what God the LORD will say; he promises peace to his people, his saints–but let them not return to folly."
True or False: The Lord will speak lies to me.
6.  Psalm 119:165 says this: "Great peace have they who love your law, and nothing can make them stumble."
True or False:  If I love God's Word, the law, I will have great peace.
7.  Isaiah 9:6 talks about when Jesus will be born and says this: "For to us a child is born, to us a son is given, and the government will be on his shoulders. And he will be called Wonderful Counselor, Mighty God, Everlasting Father, Prince of Peace."
True or False:  this verse shows that another name for Jesus is the prince of Peace.
8.  Isaiah 26:3 says this: "You will keep in perfect peace him whose mind is steadfast, because he trusts in you."
True or False:  I will have perfect peace if I keep my mind on myself.
9.  Isaiah 59:8 talks about people who do not know God and choose not to believe in Him.  It says this: "The way of peace they do not know; there is no justice in their paths. They have turned them into crooked roads; no one who walks in them will know peace."
True or False:  I can have true peace even if I choose not to believe in God.
10.  Philippians 4:6-7 says this: "Do not be anxious about anything, but in everything, by prayer and petition, with thanksgiving, present your requests to God. And the peace of God, which transcends all understanding, will guard your hearts and your minds in Christ Jesus."
True or False:  The peace of God is greater than we can understand.
11.  I Thessalonians 13b says this:   "Live in peace with each other."
True or False:  We should have enemies within the church.
12.  II Timothy 2:22 says this: "Flee the evil desires of youth, and pursue righteousness, faith, love and peace, along with those who call on the Lord out of a pure heart."
True or False:  As Christians, we should go after righteousness, faith, love and peace.
If you liked this Sunday School/Homeschooling idea, then sign up to receive Scripture Lady's Free Email Kid Tips packed full with creative ideas and receive 6 FREE Bible Review Games to help get the kids you minister to excited about the Bible! Just go to www.MyFreeBibleGames.com to fully subscribe.
Also, don't forget to "LIKE" me on Facebook. Just click on my Facebook logo to the right. Thank you!
If you're into Twitter, click on the cute little bird!