Let's OBEY God is The Scripture Lady's newest elementary Bible program designed to teach children ages 5 -11 the importance of obeying God all of their lives.
I am so excited to announce the debut of my newest program for elementary children called, "Let's OBEY God!" This program follows the successful "acrostic" template of several of my other programs such as "Let's GROW in God," "Let Us PRAY," "Let's KNOW God," and "Let's READ the Bible."
Each acrostic teaches 4 important points about the topic in capital letters. My "Let's OBEY God!" program is no exception.
Today, I want to give you an overview of this program and provide you with the slides for the game I play with the kids called "Whose Voice is Talking Now?"
"Let's OBEY God!" teaches the following four points:
When we obey…
O – We will have Open Ears and Open Hearts.
B – We will Be kind, Be patient and Be loving.
E – We will be Encouraged and Excited.
Y – You will remember that YOU have the power of God to obey.
Check out this testimonial from Principal Chris Bird at Tri-City Christian School in Vista, CA
The program opens with me sharing the importance of obey God every day of our lives. In fact, obeying God should be every Christian's number one goal.
We then sing one of my favorite Bible verse songs that I wrote called, "Do What it Says." This song is based on James 1:22, which says: "Do not merely listen to the Word and so deceive yourselves, but do what it says." This is a great verse on obedience and reminds us all to put into practice what God calls us to do.
Click HERE to hear a sample of this song.
I then move forward to the first teaching point  for the letter "O": When we obey, we will have Open Ears and Open Hearts.
I proceed to tell the kids that we need to have ears and hearts tuned into the voice of God through His Word and the Holy Spirit. In fact, Jesus wants us to be like sheep who follows their Shepherd and who know His voice. I also remind the children that there is an Enemy who talks to us as well and we all need to learn the difference between our loving Shepherd's voice and the voice of Satan.
We then play a fun game that I call "Whose Voice is Talking Now?"
It's very simple to play and I am giving you the slides so that you can play it with your kids.
This is how you play the game from my "Let's OBEY God!" program:
Each slide presents 6 different situations where a voice is talking. The children have to decide if Jesus, the Shepherd is speaking, or if the Enemy is speaking. You will also notice that I am giving you a slide that shows a picture of Jesus, our Shepherd, side by side with a picture of a lion. We know that the Bible depicts the Enemy like a lion waiting to devour us.
Instruct the children that you will read each situation. If they think Jesus, our Shepherd, is speaking, they will stand up and begin bleating like sheep – baaaah! But if they believe it is the Enemy speaking, they will put 2 thumbs down and say, "Boooooh!"
Begin by reading the first situation and then ask them, "Whose voice is talking now?" Then let the kids perform the right movement to match the voice.
Pretty simple, but lots of fun.
Slides for the game:
(You can take these slides and use them in a Power Point presentation or you could simply print them off and show them as you read them.)
After playing the game, we continue on to point number two for the letter "B": When we obey, we will Be kind, Be patient and Be loving.
For this portion of the "Let's OBEY God!" program, I share one of my favorite parables, the parable of "The Good Samaritan." I actually use my "Scripture Lady" bag and pull lots of objects out of it to captivate the kids.
Take a look at this picture showing me in action: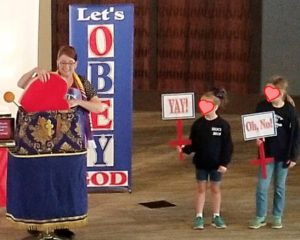 The next letter we learn from is "E": When we obey, we will be Encouraged and Excited.
God loves it when we trust Him enough to obey Him. When we trust God, we will be more and more encouraged and excited to continue to obey Him as we see the results of our obedience.
During this part of the "Let's OBEY God!" program, I take the kids back in time to when I was a little girl and I learned an important lesson about following what the Bible says about loving our enemies. I share with the kids that once there was a girl in my class who was always mean to me, but because I learned that Jesus wants us to love our enemies, I showed this girl love instead of being mean.
Here's a picture of "Little Kathy"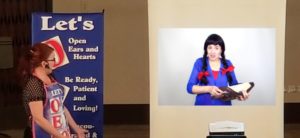 After a little talk with "Little Kathy," we sing a brand new song called, "Noah Built the Ark," a song all about obedience.
Click HERE to listen to a sample of this song.
Finally, we come to the letter "Y": When you obey, you will remember that YOU have the power of God to obey.
During this portion of the lesson, I share that obeying God is not always easy. In fact, Jesus struggled with obeying the Father. While on earth, Jesus was fully God, but also fully man and was tempted in all the same kinds of temptations that we are. Jesus knew first hand how hard it was to make right choices and obey the Father, even to the point of death.
This is when I get to share my newest object lesson with a twist called "Jesus Took the Cup." I LOVE this new object lesson and the kids loved it too. It really drove home the point that Jesus was willing to obey God even to the point of death by taking the cup of pain suffering by taking our place on the cross.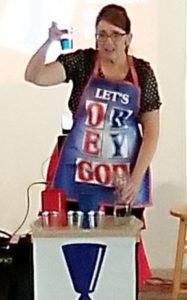 At the end of the program, I teach the children that God does indeed give us everything we need to obey Him. We end our time by singing my Bible verse song for 2 Timothy 1:7 called, "Spirit of Power."
Click HERE to listen to a sample of this song.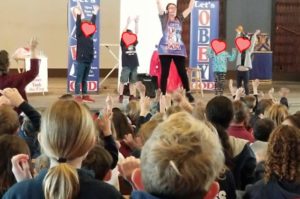 Would you like Kathy Vincent, The Scripture Lady, to share this program or one of her many other programs for the children of your church or children's ministry? Then contact her at

thescripturelady@gmail.com

to learn how to book a performance for a fun, creative and meaningful presentation of God's life-changing Word.
Would you like to learn about other program from The Scripture Lady? Then go to the following link:
If you liked learning about the "Let's OBEY God!" program, then sign up to receive Scripture Lady's Free Email Kid Tips packed full with creative ideas and receive 12 FREE Bible downloadable resources to help get the kids you minister to excited about the Bible! Just go to www.MyFreeBibleGames.com to fully subscribe.
Also, don't forget to "LIKE" me on Facebook. Just click on my Facebook logo to the right. Thank you!