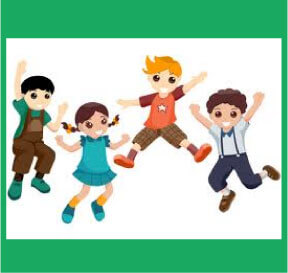 Bible verse games are great for preschoolers too! Here is one on Psalm 139:14 called "How Did God Make You?"
Psalm 139:14 says, "I am fearfully and wonderfully made.  I know that full well!"  How amazing it is to know that God carefully made each one of us.  We are incredibly unique at the very core of our beings.  This is a truth that our little ones need to embrace as soon as possible, before the world leaves its critical and judgmental imprint on their hearts and minds.  Here are two Scripture activities to help get your preschoolers to see that God made each one of them very special.
How Did God Make You?
Bible verse games are fun and for this one you will need to find out 3 to 5 special or interesting things about each child from their families.  For example, one child's family might tell you that their child was named after his grandfather, or that they were born in a foreign country.  Write each of these comments on one side of separate index cards.  On the other side, either place a picture of the child or write his name.  Now decorate a bag or a box that says, "How Did God Make You?"  Place all the cards inside the box. You are now ready to play the game.
Read Psalm 139:14 to your children.  Explain that God made each person very special.  We all have things that are very wonderful and interesting to learn about.  Show the children the bag or box and say that inside the box are cards that describe or tell an interesting point about each child in the class.  Say that you will pick out a card and read what is on the card.  Then say that you want the children to guess whom the card is talking about.  After the children make a guess, turn the card over and reveal the picture or name of the child.  Play until all the cards have been read.
Just in case you're interested, you might want to check out this book with even more Bible lessons for your preschoolers: INSTANT BIBLE LESSON FOR TODDLERS–JESUS IS MY FRIEND (Instant Bible Lessons)
If you liked this Sunday School/Homeschooling idea, then sign up to receive Scripture Lady's Free Email Kid Tips packed full with creative ideas and receive 6 FREE Bible Review Games to help get the kids you minister to excited about the Bible! Just go to www.MyFreeBibleGames.com to fully subscribe.
Also, don't forget to "LIKE" me on Facebook. Just click on my Facebook logo to the right. Thank you!
If you're into Twitter, click on the cute little bird!
"For by grace you have been saved through faith and that not of yourselves; it is a gift of god, not by works lest anyone should boast."
Ephesians 2:8-9