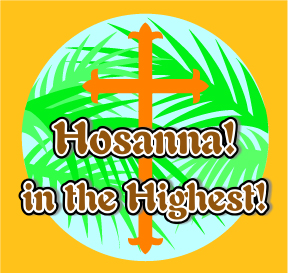 The Scripture Lady loves creating Holiday Bible games! Here is one for Easter called "Hosanna in the Highest!" to teach about Palm Sunday.
"Hosanna to the Son of David!" "Blessed is he who comes in the name of the Lord!" "Hosanna in the highest!"  (Matthew chapter 21, verse 9 NIV)  What beautiful and inspiring words these are!  But do you know what "Hosanna" means?  "The word Hosanna originally meant 'Save us!'. From being a cry for help, it came to be used as a cry of praise – an affirmation of help already promised or on its way."
The word "Hosanna" originally appears in Psalm 118 verse 25, one of the 'Hallel' psalms which was sung at Passover. Here are some translations that give a better understanding and rendering:
Please Lord, deliver! Please Lord, grant us success!  (NIV ©)
O LORD, save us; O LORD, grant us success.  (NASB ©)
O LORD, do save, we beseech You; O LORD, we beseech You, do send prosperity!  (NLT ©)
Please, LORD, please save us. Please, LORD, please give us success.  (MSG ©)
Salvation now, GOD. Salvation now! Oh yes, GOD–a free and full life!  (BBE ©)
Send salvation now, O Lord; Lord, send us your blessing.  (NRSV ©)
Save us, we beseech you, O LORD! O LORD, we beseech you, give us success! (NKJV ©)
We all need some help and success now and then, even our elementary kids.  So, why not take the time this coming Palm Sunday to play this activity for Palm Sunday for kids to teach them of the great truth that God's help has indeed been promised to each of us and that it's on the way.
A week or two before Palm Sunday, ask your children for areas in their lives where they need God's help or success.  Try and get 2 to 3 ideas per child.  Compile your list in such a way as this:
Debbie needs God to help her get a good grade in Math.
Ryan needs God to help his grandmother feel better.
…and so on, with each need.
On Palm Sunday, go over the Bible story of Jesus' triumphal entry found in Matthew 21:1-11.  Once you have told the story, go over the meaning of "Hosanna" as I have explained above.  Then explain that you are going to read off the list of ways that each child gave of needing God's help.  Also explain that after each prayer for help is read, the class will jump up out of their seats and shout, (respectfully, I might add), "Hosanna in the highest!", as a declaration of knowing that God will help each one of the children in the way that He knows best.  Depending on your group of class, you may want to give each of the children a tambourine to add to the celebratory feeling.  Whatever you choose to do, hopefully this will be a good lesson of God's faithfulness to each one of us, starting with sending His Son!
I played this Palm Sunday holiday Bible game with a class of over 50 and the kids really enjoyed it. It was powerful to see and listen the children shout, "Hosanna!" May you have a blessed experience also.
If you liked this Sunday School/Homeschooling idea, then sign up to receive Scripture Lady's Free Email Kid Tips packed full with creative ideas and receive 6 FREE Bible Review Games to help get the kids you minister to excited about the Bible! Just go to www.MyFreeBibleGames.com to fully subscribe.
Also, don't forget to "LIKE" me on Facebook. Just click on my Facebook logo to the right. Thank you!
If you're into Twitter, click on the cute little bird!
"…Jesus Christ loved the church and gave Himself up for her to make her holy, cleansing her by the washing with water through the Word, and to present her to himself as a radiant church, without stain…but holy and blameless." 
Ephesians 5:25-27