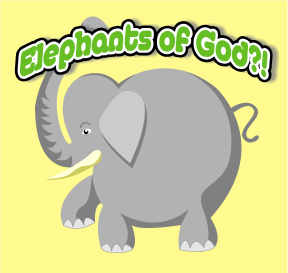 Bible verse games are great for preschoolers too! Here is one for 1 John 3:1 called "Elephants of God?"
Isn't it comforting to know that we are God's children? He doesn't make us His second cousins twice removed. We are not His nieces or nephews. We are His children!
First John 3:1 says, "How great is the love the father has lavished on us that we should be called children of God." Your preschoolers are ready to learn this truth and here is a fun Bible verse game, (and a little silly, too) that your kiddos will want to play over and over again. I call it "Elephants of God?"
Bible verse games are fun and this game goes perfectly with my Bible song for 1 John 3:1 called, "Children of God." I have provided you with the video down below. Learn the moves and share them with your little ones then get ready for some real fun.
Begin by saying, "We're not elephants of God!  We're children of God!" Then try this fun singing game to get across the point that God calls us His children.  After learning the song, have the children sing it while walking around in a circle.  After you sing through the first verse once, in other words, "How great is the love the Father has lavished on us, that we should be called…", pause at this point, have the children freeze in their places and shout out, "elephants of God!"
Give the children about a minute to walk around the room and act like elephants.  Stop them and ask, "Are we elephants of God?"  The children should shout out, "No!"  You ask, "Then what are we?"  Encourage the children to shout out, "Children of God!"  Play the game all over again, pausing at the same point in the song each time, but pick a different animal. I guarantee it will be a hit!
Here is a sample video of the moves for 1 John 3:1:

Click HERE to learn how to purchase the downloadable song and moves for this song for only $2.49.
Just in case you're interested, you might want to check out this book with even more Bible lessons for your preschoolers: The Toddler's Busy Book: 365 Creative Games and Activities to Keep Your 1 1/2- to 3-Year-Old Busy
If you liked this Sunday School/Homeschooling idea, then sign up to receive Scripture Lady's Free Email Kid Tips packed full with creative ideas and receive 6 FREE Bible Review Games to help get the kids you minister to excited about the Bible!
Just go to www.MyFreeBibleGames.com to fully subscribe. Also, don't forget to "LIKE" me on Facebook. Just click on my Facebook logo to the right.
Thank you!
If you're into Twitter, click on the cute little bird!
"How great is the love the father has lavished on us that we should be called children of God."
1 John 3:1