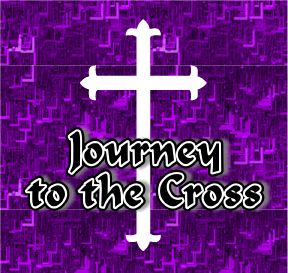 The Scripture Lady loves creating Holiday Bible games! Here is one for Easter called "Journey to the Cross" to teach about Jesus' journey to the cross.
I grew up Catholic and although I no longer attend the Catholic Church, there are some traditions I learned growing up that I really came to respect. One of those traditions was looking at the "Stations of the Cross" that were often elaborately depicted in some kind of beautiful art form such as sculptures or ornate paintings. If you are not familiar with the "Stations of the Cross", it "is a series of artistic representations, very often sculptural, depicting Christ Carrying the Cross to his crucifixion in the final hours (or Passion) of Jesus before he died." (http://en.wikipedia.org/wiki/Stations_of_the_cross)




There are usually 13 to 15 of these stations placed around the periphery of the church. Looking at these different pictures can definitely offer a time of reflection and thanksgiving for all the Lord has done for us. Easter is a time to reflect on the ultimate sacrifice Jesus made for each one of us and our elementary children can begin doing this also. Therefore, I have created this Easter Sunday School lesson for children that I call "Journey to the Cross."  Instead of "stations", I use 19 steps that will take your children through the Scriptures of Jesus' final hours of His life.
Holiday Bible games will help your children hide God's Word in their hearts and for this one you will need to do the following:
For this Easter Bible lesson, you will need to print off the 19 "Step" cards found as links below. You will then want to place them around the edge of your classroom or home. Place a Bible by each step or make sure the children have access to a Bible with each step they go to. You will also need to give each child a copy of the "Puzzle Page" found below. If you would like, you can break your class up into groups and just give one "Puzzle Page" to each group. Finally, you will want to randomly write the words found on the "19 Missing Words List Page", found below, on a chalkboard or whiteboard. Make sure you underline each of the letters that I underlined on my list. Do not write the words in the correct order, otherwise it will be too easy for the children to fill in the puzzle.
How to play the Bible activity:
After introducing the lesson, explain to the children that you want them to quietly go around to each of the pictures representing the last steps or timeline of Jesus' death. Tell them they will need to look up the verse on the picture and try to fill in the blank with one of the words found on the board. As they fill in each of the blanks, they will take the underlined letter of the discovered word and place it in the correct spot in the message found below. Let the children know that this is meant to be a quiet activity – a time for them to think about what Jesus did for each of them. After all the children have completed their puzzles, you might have a time of prayer and thanksgiving.




Before playing this activity, you might want to introduce the holiday Bible game in the following way:
Raise your hand if you can tell me why we celebrate Easter. (Wait for responses and give praise and encouragement for their answers.) That's right! We celebrate Easter because we remember that Jesus loved each one of us so much that He was willing to die on the cross for our sin. We believe that after Jesus died, He was buried for three days, but on the third day, He rose from the dead and is now alive. We have faith that all this is true because the Bible says that it is true and because Jesus is our Friend. Today, we are going to play a quiet activity that will help us remember the last steps of Jesus when He died on the cross for our sins.
Journey to the Cross Printables:
The Message of the Cross Puzzle Page
The 19 Steps:
Just in case you're interested, you might want to check out this book with even more Bible Holiday Ideas for your kids: Celebrate and Participate, Lessons for Every Holiday Book #3: Includes Palm Sunday, Easter, Memorial Day, Labor Day and Veterans Day
If you liked this Sunday School/Homeschooling idea, then sign up to receive Scripture Lady's Free Email Kid Tips packed full with creative ideas and receive 6 FREE Bible Review Games to help get the kids you minister to excited about the Bible! Just go to www.MyFreeBibleGames.com to fully subscribe.
Also, don't forget to "LIKE" me on Facebook. Just click on my Facebook logo to the right. Thank you!
If you're into Twitter, click on the cute little bird!
"But grow in the grace and knowledge of our Lord and Savior Jesus Christ.  To Him be glory both now and forever. Amen!"
2 Peter 3:18
(Click here for a sample of this Bible verse song.)