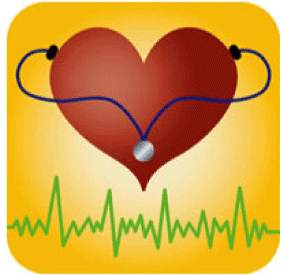 The Scripture Lady loves creating Bible verse games for kids! Here is one called "Heart Tests" to help learn Psalm 139:23.
Psalm 139:23 says this: "Search me, God, and know my heart; test me and know my anxious thoughts."  I think this verse really shows the humble heart that David had before his Lord.  He desired to please God and he knew God was the only One who truly understood and knew what was going on in his heart and mind.  Here is a fun Bible verse game to help your kids learn about their own hearts and thoughts and how God truly knows them.  I call it "Heart Tests."
Bible verse games will help your kids hide God's Word in their hearts and for this one you will need to do the following:
For this activity, you will need to prepare two sturdy cardboard hearts about 6 inches by 6 inches.  Punch or poke 10 holes equidistantly about one half inch from the edges.  Make the 2 hearts as identical as possible.  Get 2 red shoelaces, one per each heart, long enough to lace completely around the heart.  Tie one end of the shoelace securely to one of the holes.  You will also need a copy of the questions, which I've provided for you below.
Here's how to play:
For this Bible memory verse activity you will need to divide your class into 2 teams.  Ask one child from each team to come forward.  Give each child a heart that has not been laced.  On the word "Go", the 2 kids lace the string through each consecutive hole on their heart.  The first child to lace their heart correctly, without missing any holes, earns the right to answer a Bible review question about the heart or a person's thoughts.  If the child answers the question correctly, he earns 100 point for their team.  Two new children, one from each team, are picked for a new round.  Before each round, unlace the hearts so they are ready to be laced again.
Before playing the game, you might want to introduce the lesson in the following way:
Read Psalm 139:23.  This Psalm was written by King David.  King David was not perfect.  He did wrong things like you and I do.  He was a sinner just like you and me.  Yet, he loved God so much that he wanted God to really search his heart and mind in order to find out if there was anything wicked or sinful in his life.  Wow.  That's what I call humble.  Are you willing to ask God to look inside your heart with His eyes of love so that He can show you what's truly there?  I hope so.  God doesn't want to show you your sin to be cruel or mean to you.  He wants to get rid of your sin because He loves you.  He knows your relationship with Him will be better and stronger if you are humble enough to allow Him to look deep inside your heart and thoughts.  Let's play a Bible memory verse activity to help us learn more about how God sees our hearts and minds.
Bible Review Questions – The child must choose the correct answer inside the parentheses to make the statement true.  I have underlined the correct answer.
1.  Psalm 14:1 says this: The fool hath said in his heart, There is no God. They are corrupt, they have done abominable works, there is none that doeth good.
Make this true:  The (wise man or fool) says there is no God.
2.  Psalm 19:14 says this: Let the words of my mouth, and the meditation of my heart, be acceptable in thy sight, O LORD, my strength, and my redeemer.
Make this true:  God wants my words and the thoughts of my heart to be pleasing (to myself or to Him.)
3.  Psalm 26:2 says this: Examine me, O LORD, and prove me; try my reins and my heart.
Make this true:  As Christians we should be willing to let the Lord (test us or always make things easy for us.)
4.  Psalm 44:20-21 says this:If we have forgotten the name of our God, or stretched out our hands to a strange god; Shall not God search this out? for he knoweth the secrets of the heart.
Make this true:Because God knows the secrets of my heart (I can get away with anything or not get away with anything.)
5.  Psalm 51:10 says this: Create in me a clean heart, O God; and renew a right spirit within me.
Make this true:God (can or cannot) create a pure heart within me.
6.  Psalm 51:17 says this: The sacrifices of God are a broken spirit: a broken and a contrite heart, O God, thou wilt not despise.
Make this true:God is pleased with the sacrifice of a (sinful or broken heart.)
7.  Psalm 139:17 says this: How precious also are thy thoughts unto me, O God! how great is the sum of them!
Make this true:  God's thoughts about me are (few or many.)
8.  Isaiah 55:8-9 says this: For my thoughts are not your thoughts, neither are your ways my ways, saith the LORD. For as the heavens are higher than the earth, so are my ways higher than your ways, and my thoughts than your thoughts.
Make this true:  God's thoughts are (higher or lower) than my thoughts.
9.  Jeremiah 29:13 says this: And ye shall seek me, and find me, when ye shall search for me with all your heart.
Make this true:  If I seek after God with all of my heart I will (never find Him or I will find Him.)
10.  Matthew 15:17-18 says this: Do not ye yet understand, that whatsoever entereth in at the mouth goeth into the belly, and is cast out into the draught? But those things which proceed out of the mouth come forth from the heart; and they defile the man.
Make this true:  This verse shows that (I have to be careful or I do not have to be careful) of what comes out of my mouth when I talk.)
11.  I Corinthians 2:10:11 says this: But God hath revealed them unto us by his Spirit: for the Spirit searcheth all things, yea, the deep things of God. For what man knoweth the things of a man, save the spirit of man which is in him? even so the things of God knoweth no man, but the Spirit of God.
Make this true:  this verse shows that God (is not able or is able ) to know all my thoughts.
12.   Hebrews 4:12 says this: For the word of God is quick, and powerful, and sharper than any twoedged sword, piercing even to the dividing asunder of soul and spirit, and of the joints and marrow, and is a discerner of the thoughts and intents of the heart.
Make this true:  The Word of God is so powerful that (it can judge or not judge) the thoughts and attitudes of my own heart.
If you liked this Sunday School/Homeschooling idea, then sign up to receive Scripture Lady's Free Email Kid Tips packed full with creative ideas and receive 6 FREE Bible Review Games to help get the kids you minister to excited about the Bible! Just go to www.MyFreeBibleGames.com to fully subscribe.
Also, don't forget to "LIKE" me on Facebook. Just click on my Facebook logo to the right. Thank you!
If you're into Twitter, click on the cute little bird!
"Search me, God, and know my heart; test me and know my anxious thoughts."
Psalm 139:23