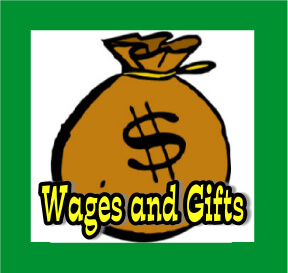 The Scripture Lady loves creating Bible verse games for kids! Here is one called "Wages and Gifts" to help learn Romans 6:23.
The first part of Romans 6:23 says this: "For the wages of sin is death."  This verse has always been interesting to me because of the word "wages".  I go to work everyday to earn a paycheck or wages.  I work hard to earn money.  But how many of us remember that our sin brings a form of payment as well?  The payment is death.  In other words, if you want to work at sinning, you will get a paycheck and its wages will be death.  Ouch!  But praise be to God who sent His Son who died on the cross for the payment of my sins "for the gift of God is eternal life."  Here is a fun Bible verse game to play with your kids to help them understand between sin and God's gifts.  It's called "Wages and Gifts".
Bible verse games will help your kids hide God's Word in their hearts and for this one you will need to do the following:
For this game, you will need a large die.  I made mine from an 8 inch square box and then I added colorful numbers 1 through 6 on the sides.  You will also need 8 – 3 inch square pictures of a skull and cross bones to represent death and 12 – 3 inch square pictures of a gift.  Laminate these for long-term use.  Finally, you will need a copy of the questions found below.
How to play:
Divide your class into teams.  Have a child from the first team come forward and ask him a question on sin.  If he answers the question correctly he will roll the die.  If he rolls a 1, 2 or 3 he earns a skull for his team and the play goes to the next team.  If he rolls a 4, 5 or 6 he will earn a "gift" for his team.  In addition, if he can answer a question about the gifts of God, he can earn another gift.  So, a team has the opportunity of winning 2 gifts per round.  After all the questions have been asked, the team with the most gifts" wins.
True or False Questions on Sin
1.  Psalm 4:4 says this: Stand in awe, and sin not: commune with your own heart upon your bed, and be still. Selah.
It's very easy to sin when we are angry.  Anger is a very strong emotion.  If we are angry we should take this psalmist's advice and meditate or think real hard on God and His Word to show us how to deal with our anger without sinning.
True or False:  It is OK to sin when you are angry.  (Answer: False)
2.  Psalm 39:1 says this: I said, I will take heed to my ways, that I sin not with my tongue: I will keep my mouth with a bridle, while the wicked is before me.
Our tongue can get us in a lot of trouble.  We must be careful that what we say does not cause us to sin.
True or False:  It is possible to sin with my tongue by what I say.  (Answer:  True)
3.  Ecclesiastes 7:20 says this: For there is not a just man upon earth, that doeth good, and sinneth not.
True or False:  Besides Jesus, there are some people on earth who have never sinned.  (Answer: False)
4.  Matthew 18:15 says this: Moreover if thy brother shall trespass against thee, go and tell him his fault between thee and him alone: if he shall hear thee, thou hast gained thy brother.
It hurts when someone does something wrong against us.  We might even feel like telling other people what they did to us.  But this verse says we should first go to the person who hurt us and talk to him alone.  Hopefully you will be able to work out your problems without bringing other people into the situation.
True or False:  If someone sins against me, I should go and tell everyone I know about it.  (Answer: False)
5.  I John 1:9 says this: If we confess our sins, he is faithful and just to forgive us our sins, and to cleanse us from all unrighteousness.
After we become a Christian, we will probably still sin.  It won't be until after we die and get rid our fleshly bodies that we will stop sinning forever.  Until then, this verse shows us that when we do sin, we need to go to God and confess our wrong doings to Him.  When we do, God will be faithful to forgive us.
True or False:  If we confess our sins to God, God will be too lazy to forgive us.  (Answer: False)
6.  Romans 6:12 says this: Let not sin therefore reign in your mortal body, that ye should obey it in the lusts thereof.
As Christians, we need to keep away from all sin in our lives.  We certainly should not allow it to reign or have power over us.
True or False:  We should not obey the evil desires of sin.  (Answer: True)
7.  Romans 6:14 says this: For sin shall not have dominion over you: for ye are not under the law, but under grace.
As Christians, we no longer have to let sin be master over us or have power over us. Jesus gained victory over the power of sin when He died on the cross.  God poured out His grace on us by sending Jesus to the cross to die for our sins.
True or False:  Even if I'm a Christian, sin will always be master over me.  (Answer:  False)
8.  2 Corinthians 5:21 says this: For he hath made him to be sin for us, who knew no sin; that we might be made the righteousness of God in him.
Jesus never sinned.  Not even once.  Yet He willingly took responsibility for our sins so that God would see us as righteous and sinless.
True or False:  Jesus never sinned.  (Answer: True)
9.  James 1:13-15 says this:Let no man say when he is tempted, I am tempted of God: for God cannot be tempted with evil, neither tempteth he any man: every man is tempted, when he is drawn away of his own lust, and enticed.  Then when lust hath conceived, it bringeth forth sin: and sin, when it is finished, bringeth forth death.
God will never tempt you to sin.  God always and only has the best desires for you.
True or False: sometimes God will tempt me to sin.  (Answer: False)
10.   John 8:34 says this: Jesus answered them, Verily, verily, I say unto you, Whosoever committeth sin is the servant of sin.
Every slave has a master.  If you allow sin in your life, you will be a slave and sin will be your master.
True or False:  A person who sins is a slave to sin.  (Answer: True)
11.  Acts 3:19 says this: Repent ye therefore, and be converted, that your sins may be blotted out, when the times of refreshing shall come from the presence of the Lord.
To repent of your sins means that you choose to no longer do that wrong thing.  Turning to God will allow your sins to be completely wiped away – forever.
True or False:  Repenting of my sins means I keep doing wrong things.  (Answer:  False)
12.  Acts 10:43 says this: To him give all the prophets witness, that through his name whosoever believeth in him shall receive remission of sins.
The name of Jesus is powerful to save us from our sins.  No other name can do this miracle!
True or False:  Billy Graham's name can take away my sins.  (Answer: False)
True or False Questions on Gifts
1.  John 14:27 says this: Peace I leave with you, my peace I give unto you: not as the world giveth, give I unto you. Let not your heart be troubled, neither let it be afraid.
As Christians we can have peace in our lives even when things are difficult because we know that life here on earth is not the end of our existence.  Jesus is the true giver of peace.
True or False:  I can only have peace when things are going good.  (Answer: False)
2.  John 15:9 says this: As the Father hath loved me, so have I loved you: continue ye in my love.
God loves Jesus more than we can even imagine.  Jesus loves you and me more than we can ever imagine too!
True or False:  Jesus loves me!  (Answer: True)
3.   Matthew 11:28 says this: Come unto me, all ye that labour and are heavy laden, and I will give you rest.
Life can get pretty difficult and tiring at times, but God promises to give us rest if we would just come to Him with all our cares and burdens.
True or False:  When we are tired and worn out from life God will give us rest.  (Answers:  True)
4.  John 10:28 says this: And I give unto them eternal life; and they shall never perish, neither shall any man pluck them out of my hand.
As Christians, even though one day our bodies will die, we are promised eternal life with God forever and ever.
True or False:  Eternal life only lasts one thousand years.  (Answer:  False)
5.  Job 32:8 says this:  But there is a spirit in man: and the inspiration of the Almighty giveth them understanding.
There is so much to learn in this life we've been given.  Where do we get the knowledge and understanding we need?  From God, of course!
True or False:  Understanding comes from watching TV all day.  (Answer:  False)
6.  Ecclesiastes 2:26a says this: For God giveth to a man that is good in his sight wisdom, and knowledge, and joy…
True or False: True wisdom, knowledge and happiness come from the Tooth Fairy.  (Answer: False)
7.  Luke 11:9 says this: And I say unto you, Ask, and it shall be given you; seek, and ye shall find; knock, and it shall be opened unto you.
There is so much that God wants to give to us.  But it's important to ask Him for the things we need and want and to seek after Him. And when we knock on His door, He will answer us.
True or False:  God wants us to ask Him for the things we need and want.  (Answer: True)
8.  James 1:5 says this: If any of you lack wisdom, let him ask of God, that giveth to all men liberally, and upbraideth not; and it shall be given him.
Being smart is good, but being wise is better.  Knowing to do the right thing at the right time comes from God.
True or False:  If I need wisdom, I should ask God for it.  (Answer: True)
9.  Ezekiel 11:19 says this: And I will give them one heart, and I will put a new spirit within you; and I will take the stony heart out of their flesh, and will give them an heart of flesh.
Before we were Christians, our hearts were like stones.  But when we ask Jesus to come into our life, God promises to give us a new heart devoted to Him.
True or False:  When we ask Jesus to come into our life, God promises to give us a new liver. (Answer: False)
10.  Luke 11:13 says this: If ye then, being evil, know how to give good gifts unto your children: how much more shall your heavenly Father give the Holy Spirit to them that ask him?
The Bible says that the Holy Spirit guides us, teaches us and comforts us among other things.  What a great gift God has given us by giving us His Holy Spirit.
True or False:  One of the good gifts that God gives us is the Holy Spirit.  (Answer: True)
11.  Psalm 136:25 says this: Who giveth food to all flesh: for his mercy endureth for ever.
What's your favorite food?  No matter what it is, God's the One who gives it to you.
True or False:  My food doesn't come from God; it comes from McDonald's.  (Answer: False)
12.  Deuteronomy 8:18 says this: But thou shalt remember the LORD thy God: for it is he that giveth thee power to get wealth, that he may establish his covenant which he sware unto thy fathers, as it is this day.
Wealth and money don't last forever, but they do come from God who knows what we need while living here on earth.
True or False:  Wealth only comes from my hard work.  (Answer: False)
If you liked this Sunday School/Homeschooling idea, then sign up to receive Scripture Lady's Free Email Kid Tips packed full with creative ideas and receive 6 FREE Bible Review Games to help get the kids you minister to excited about the Bible! Just go to www.MyFreeBibleGames.com to fully subscribe.
Also, don't forget to "LIKE" me on Facebook. Just click on my Facebook logo to the right. Thank you!
If you're into Twitter, click on the cute little bird!
"For the wages of sin is death."
Romans 6:23