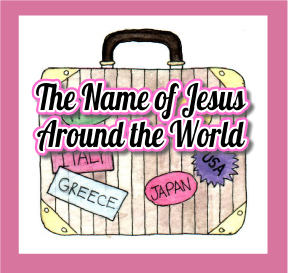 The Scripture Lady loves creating Bible lessons for kids! Here is one called "The Name of Jesus Around the World" to help learn about the name of Jesus.
Is there a story in the Bible that you wish you could have been a part of? Maybe you wish you could have been a shepherd in that little stable in Bethlehem when Jesus was born. Or maybe you wish you could have seen David slay Goliath with his slingshot. As for me, one story I have always wanted to witness first hand comes from Acts, chapter 2, when the Holy Spirit descended upon the disciples in the upper room after Jesus had ascended into Heaven. I can only image what those "tongues of fire" must have looked like! And to be able to understand all the different languages being spoken must have been mind-boggling. To be sure, it must have been amazing. Here is a fun Bible activity for your Sunday school kids or even your own kids at home to give them a little taste of hearing different languages, or more specifically, the name of Jesus in different languages. I call it, "The Name of Jesus Around the World."
Bible lessons for kids will help your children hide God's Word in their hearts and for this one you will need to do the following:
For this game you will need to print the 8 different names of Jesus found below. Print them on cardstock and laminate them so that they will last a long time. Place the cards in a bucket or bag from which the children will grab. Next, write the following poem on a large board or poster:
The Holy Spirit from Heaven came down,
Like a rushing windy sound.
Tongues of fire rested on each
And all spoke in the other's speech.
Finally, you will want someone to keep score.
Here's how to play:
Divide your class into 2 teams. Have one child from the first team stand in the middle of a circle created by the rest of the kids. Have them hold hands and explain that they are going to walk around their friend while reciting the poem. Once the poem is done, the person in the middle will reach into the bag and pull out one of the cards with a name of Jesus on it in a different language. Each card also contains 2 choices of languages it could possibly be. (I have provided you with the correct answers below.) The child will try and guess the correct language. If he does, he will earn 100 points for his team. A child from Team 2 will now stand in the middle and once again the rest of the children will walk around him while saying the poem. The team with the most points at the end of the game is the winner.
Before playing the game, you might want to introduce the lesson in the following way:
Raise your hand if you can speak more than one language. (Wait for responses.) Super. I wish I new every language there was to know. Then I could talk to everyone and understand what they are saying. Did you know there's a story in the Bible where people suddenly understood everybody else's language? In the book of Acts, chapter 2, we learn of a time when the Holy Spirit fell down upon the disciples and gave them the ability to understand different languages. Let's read the story now. (At this point, find a version of this story that is appropriate for your kids.)
Continue by saying: Wow, wasn't that a great story? Do you wish you had been there? I do. I think it would be great to know the names of Jesus in lots of different languages since His name is by far the greatest. Let's play a fun game to help us learn some different names of Jesus found all around the world.
Correct Answers:
Jésus  (French)
Isa  (Arabic)
Gesù  (Italian)
Jeesus  (Estonian)
Jezu  (Haitian Creole)
Isus  (Romanian)
Jezus  (Dutch)
Jesus  (English)
If you liked this Sunday School/Homeschooling idea, then sign up to receive Scripture Lady's Free Email Kid Tips packed full with creative ideas and receive 6 FREE Bible Review Games to help get the kids you minister to excited about the Bible! Just go to www.MyFreeBibleGames.com to fully subscribe.
Also, don't forget to "LIKE" me on Facebook. Just click on my Facebook logo to the right. Thank you!
If you're into Twitter, click on the cute little bird!
"As God's chosen people, holy and dearly loved, clothe yourselves with compassion, kindness, humility, gentleness and patience."
Colossians 3:12