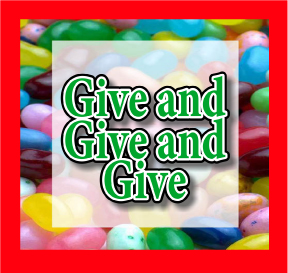 The Scripture Lady loves creating Bible verse games for kids! Here is one called "Give and Give and Give" to help learn John 3:16.
I wish I could tell you that I am an awesome giver, but unfortunately I can get very selfish at times and keep all that I have to myself.  God's plan is different and does not involve any selfishness.  Take for example John 3:16. This Scripture may be the most beloved verse in the Bible and clearly shows that God gave us His all and held nothing back.  God expects us to give as well and He expects us to do it cheerfully and with genuine joy.  Here is a fun Bible memory verse activity to help your kids learn John 3:16 and its truth.  It's called "Give, Give, Give."
Bible verse games will help your kids hide God's Word in their hearts and for this one you will need to do the following:
For this game you will need a cup.  You will also need a small pile of candy for each child.  Here is my suggested list: 5 M&M's, 4 starburst pieces and 2 peanut butter cups.
Here's how to play:
After introducing John 3:16 and going over it several times with your class, have all your kids sit in a circle.  Give each child their portion of candy instructing them not to eat any of it.  Give the cup to one of the children.  Explain that they need to pass the cup around the circle while reciting John 3:16.  At some point unknown to the class, you will say, "Stop!"  Whoever is holding the cup must now put the suggested amount of candy from their pile into the cup.  (I've provided the suggested amounts below.)  The cup starts going around again, each time stopping when you say, "Stop!"  Each new person who ends up holding the cup must put in the suggested amount of candy.  By this time players will be passing the cup fast and furiously to keep from being caught with it.  After playing several times, end the game by having the last person holding the cup be the one who gets all the candy.  Play as long as you like or until a child has no candy left to give.  So that there are no terminally sad faces in the group, you might want to have an additional bag of treats for everyone to take home.
Suggested List of Candy Donations:
2 M&M's and 1 starburst
1 peanut butter cup and 1 starburst
3 M&M's and 1 peanut butter cup
4 starbursts
2 peanut butter cups
All of their candy
Before playing the game, you might want to introduce it in the following way:
Raise your hand if you know John 3:16 by heart?  (Wait for responses.)  Good for you!  I think the best part about this verse is that we learn what an amazing giver God is.  God gave us His one and only Son so that we could live with Him forever.  Have you ever given a gift so wonderful before?  (Wait for responses.)  I know you guys can be great givers, but I am sure none of you have ever outgiven God.  He is the ultimate giver and we should try and be super givers too.  Here is a fun Bible memory verse activity we can play to help us memorize John 3:16 as well as learn how to be good givers.  It's called, "Give, Give, Give."
Here is my "Teach Me the Moves" Video for my Bible Song: John 3:16:
Click HERE to purchase your own downloadable version of this song and video for only $2.95.
If you liked this Sunday School/Homeschooling idea, then sign up to receive Scripture Lady's Free Email Kid Tips packed full with creative ideas and receive 6 FREE Bible Review Games to help get the kids you minister to excited about the Bible! Just go to www.MyFreeBibleGames.com to fully subscribe.
Also, don't forget to "LIKE" me on Facebook. Just click on my Facebook logo to the right. Thank you!
If you're into Twitter, click on the cute little bird!
"For God so loved the world that He gave His one and only Son that whoever believes in Him will not perish, but have eternal life."
John 3:16