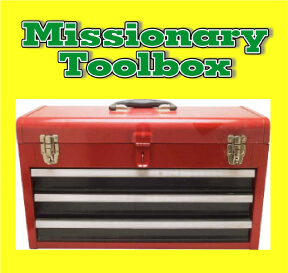 The Scripture Lady loves creating Bible object lessons for kids! Here is one called "The Missionary Toolbox."
Do you or your child know of anyone heading off to the mission field for either a long-term or short-term mission's trip?  My church is constantly sending off people to far away places to share the good news of Jesus Christ.  Missionaries need our prayers.  Here is a fun Scripture game you can do with your children to help them learn the importance of praying for ambassadors for the Lord.  I call it "The Missionary Tool Box".
Bible object lessons for kids will help the Bible's truths come to life and for this one you will need to do the following:
The missionary too box can be a great "tool" to help get your kids thinking of how they can pray for families and friends who are on the mission field whether for 2 weeks or 2 years.  First, you will need a toolbox.  I got mine at my local 99 cent store.  Next, fill the box with all sorts of great gadgets that will spark ideas of how to pray for the missionary.
For example, my box contains a toy cell phone.  This will remind the children to pray that missionaries will be able to communicate by phone whenever the need arises.  A plastic lizard in the box can be a reminder to pray for safety around strange creatures a missionary may not be use to.  Foreign coins can spark a prayer for financial support.
A large toy magnet can be a reminder to pray that the missionary's message of the Gospel will "attract" many non-believers.  Some plastic food is a prayer jogger for a missionary's need to not be too picky about what is served them.  Missionaries can get sick too, so make sure you include an empty medicine bottle for prayers of health.  And a toy truck or car can spur your child to pray for safe transportation while in other countries.  You get the idea.
Finally, during prayer time, pick a child to pull out an item from the tool box and have the class focus on the prayer need that item represents.  Then when the missionary gets back, if possible, let them know that you prayed for them.  I'm sure they'll be very glad you did.
If you liked this Sunday School/Homeschooling idea, then sign up to receive Scripture Lady's Free Email Kid Tips packed full with creative ideas and receive 6 FREE Bible Review Games to help get the kids you minister to excited about the Bible!
Just go to www.MyFreeBibleGames.com to fully subscribe.
Also, don't forget to "LIKE" me on Facebook.  Just click on my Facebook logo to the right.  Thank you!
If you're into Twitter, click on the cute little bird!
"God loves a cheerful giver."
2 Corinthians 9:7