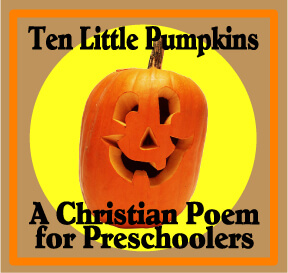 Christian poems for preschoolers are great! Here is one called "Ten Little Pumpkins."
Fall is my favorite season. As a little girl, I loved watching my dad carve a pumpkin each year. I still love the fresh smell of pumpkin and seeing a shining light inside a carved orange gourd always warms my heart. Most preschoolers love the silly faces on pumpkins too. So, why not take the time honored tradition of carving a pumpkin and pair it with the truth of God to proclaim His goodness? Here is a sweet Christian poem for kids that I believe your little ones will enjoy hearing every year.
Christian poems for preschoolers are fun and here is what you do for this one:
I love to work with pocket charts.  Many teachers use them in their classroom.  They are durable and these days they come in lots of different shapes and sizes.  If you aren't familiar with what one looks like, go to this site at www.orientaltrading.com and search for their pocket charts or go to your local teacher supply store.  Once you have your chart of choice, I suggest you attach it to a sturdy board of some kind that you can easily place on an easel.  Now you're ready to present your pocket poem.
A pocket poem is just a poem that has great pictures to go along with it.  You read the picture cards as you place each one on the pocket chart.  "Ten Little Pumpkins" is one of my "pocket poems".  Take this little poem and find pictures of pumpkins that go along with each of the lines.  I have provided you with a picture showing my set up of the poem here:
Pocket chart set-up of "Ten Little Pumpkins"
Your preschoolers will learn that no matter what they are feeling, God loves them!
Here is the video presentation of this sweet poem. If you would like the downloadable visuals, click on the link below the video to learn more how to purchase them for only $5.00.
>
Click HERE to learn how to get the great downloadable graphics that go along with this poem for only $5.00!
Ten Little Pumpkins
Ten little pumpkins sitting on their posts.
Each wants to shine its light the most.
The first little pumpkin on the outside looks sad.
But he knows when Jesus lives inside, he's oh so glad.
The second little pumpkin is winking at you.
He hopes that Jesus lives inside of you too.
The third little pumpkin got mad and sinned.
But he told God he's sorry and God still loves him.
The fourth little pumpkin is tired indeed.
So he reads God's Word to get the strength he needs.
The fifth little pumpkin had a contented face.
'Cause he knew God would put him in the right place.
The sixth little pumpkin was mighty surprised.
When he learned that Jesus loved him and for him he died.
The seventh little pumpkin had a smirk and smile.
He liked the face God gave him. It gave him lots of style.
The eighth little pumpkin was confused. It's true.
Why wouldn't all his friends love Jesus? Do you?
The ninth little pumpkin was afraid and scared.
But then he remembered how much God cared.
The tenth little pumpkin was filled with joy.
And hopes you'll also shine for God whether you're a pumpkin, girl or boy.
If you liked this Sunday School/Homeschooling idea, then sign up to receive Scripture Lady's Free Email Kid Tips packed full with creative ideas and receive 6 FREE Bible Review Games to help get the kids you minister to excited about the Bible! Just go to www.MyFreeBibleGames.com to fully subscribe.
Also, don't forget to "LIKE" me on Facebook. Just click on my Facebook logo to the right. Thank you!
If you're into Twitter, click on the cute little bird!
"So do not fear for I am with you. Do not be dismayed for I am your God, I will strengthen you and help you. I will uphold you with my righteous right hand."
Isaiah 41:10