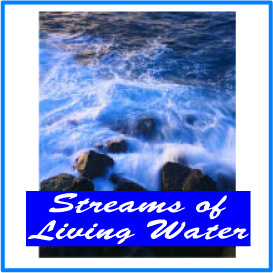 The Scripture Lady loves creating Bible verse games for kids! Here is one called "Streams of Living Water" to help learn John 7:38.
John 7:38 says, "Whoever believes in me, as the Scripture has said, streams of living water will flow from within him." (NIV) What a perfect Scripture for a Bible verse game and some water fun – relay style!
Bible verse games will help your kids hide God's Word in their hearts and for this one you will need to do the following:
Break your kids into 2 teams and gather these following items:  two drinking cups that can hold about 2 cups of water, a package of "Dixie" cup size cups, 2 one gallon buckets filled with water, two stable chairs, and two sets of 19 Ziploc sandwich baggies each containing one word of John 7:38 including the reference.
Now take your kids outside in their bathing suits or water attire and divide them up into their teams.  Have the first child in each team lay down on the ground with their legs part way under one of the chairs holding the drinking cup on their stomach.  The rest of the team will stand behind their child who is lying down.  When you say, "Go!" the first child by the bucket will fill their "Dixie" cup with some water and get up on the chair as quickly as he can then pour his amount of water into the cup held by the child lying down.  Each successive child in the relay line repeats the process.
The goal of each team is to fill the drinking cup held by the child lying down.  The first team to do this then races over to the other end of the playing area where you will have the Ziploc baggies laying out ready for the team to put the verse in correct order.  The first team to do this, wins!  Now it's time to play it all over again with a new child lying down.
If you liked this Sunday School/Homeschooling idea, then sign up to receive Scripture Lady's Free Email Kid Tips packed full with creative ideas and receive 6 FREE Bible Review Games to help get the kids you minister to excited about the Bible! Just go to www.MyFreeBibleGames.com to fully subscribe.
Also, don't forget to "LIKE" me on Facebook. Just click on my Facebook logo to the right. Thank you!
If you're into Twitter, click on the cute little bird!
"Do not merely listen to the Word and so deceive yourselves, but do what it says."
James 1:22
(Click here for a sample of this Bible verse song.)