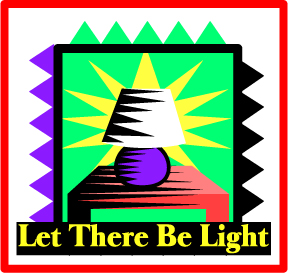 The Scripture Lady loves creating Bible lessons for kids! Here is one called "Let There Be Light" to help learn about God's light.
Yesterday, I had the great privilege of spending time with a couple who have just come out of a very "dark" time.  They are now allowing God's light to shine in their lives and are an amazing testimony of His love and restoration.  Genesis 1:4 says, "And God saw the light, that it was good: and God divided the light from the darkness."  God does not want any of His children to walk in the dark and yet that's where sin takes us if we let it.  The couple I just mentioned is so aware now of wanting God's light and truth in their lives and home that they literally light candles around their house to remind them of this amazing truth: God is light (I John 1:5).  So, this Bible activity is in tribute to our Lord who shines light into our darkness and to this family whom I love very much.




Bible lessons for kids will help your children hide God's Word in their hearts and for this one you will need to do the following:
The idea is simple, really.  The first thing you want to do is acquire different kinds of light, say flashlights, Christmas Tree lights (before you put them away!), candles of different sorts (be careful around the kids!) or even those neon sticks you can buy at party stores that glow in the dark.  Have several types around your classroom or room at home.  Next, pick some Scriptures all about God's light.  I have supplied you with a long list at the end of the newsletter.  You could pick out the ones you particularly like and write them out on index cards.  Now place them in a bucket or hat.  As the children arrive to class or for your devotion time at home, tell them that they are going to learn more about God's light and how He wants each of us to walk in His light and truth.  When we choose not to let His light shine in our lives, we live in darkness.
At this point, turn off all of the lights except maybe one that you are holding. Ask a child to come up and pick a Scripture out of the bucket and have him read it.  After reading it, let him choose to "turn on" one of the lights in the room.  Let each child have a turn.  Before they know it, the room will be ablaze with God's glorious luminance.  It should be a very brilliant reminder of how God came to divide the light from darkness.
Bible Verses on Light
2 Samuel 22:29 
29 You are my lamp, O LORD; the LORD turns my darkness into light.




Nehemiah 9:11-13
11 You divided the sea before them, so that they passed through it on dry ground, but you hurled their pursuers into the depths, like a stone into mighty waters. 12 By day you led them with a pillar of cloud, and by night with a pillar of fire to give them light on the way they were to take.
Job 33:28
28 He redeemed my soul from going down to the pit, and I will live to enjoy the light.'
Psalm 4:6
6 Many are asking, "Who can show us any good?" Let the light of your face shine upon us, O LORD.
Psalm 18:28 
28 You, O LORD, keep my lamp burning; my God turns my darkness into light.
Psalm 36:9
9 For with you is the fountain of life; in your light we see light.
Psalm 43:3
3 Send forth your light and your truth, let them guide me; let them bring me to your holy mountain, to the place where you dwell.
Psalm 56:12-13
12 I am under vows to you, O God; I will present my thank offerings to you. 13 For you have delivered me from death and my feet from stumbling, that I may walk before God in the light of life.
Psalm 89:15
15 Blessed are those who have learned to acclaim you, who walk in the light of your presence, O LORD.
Psalm 97:11 
11 Light is shed upon the righteous and joy on the upright in heart.
Psalm 119:105
105 Your word is a lamp to my feet and a light for my path.
Psalm 119:130
130 The unfolding of your words gives light it gives understanding to the simple.
Isaiah 42:16
16 I will lead the blind by ways they have not known, along unfamiliar paths I will guide them; I will turn the darkness into light before them and make the rough places smooth. These are the things I will do; I will not forsake them.
Isaiah 50:10
10 Who among you fears the LORD and obeys the word of his servant? Let him who walks in the dark, who has no light, trust in the name of the LORD and rely on his God.
Isaiah 60:19
19 The sun will no more be your light by day, nor will the brightness of the moon shine on you, for the LORD will be your everlasting light, and your God will be your glory.
Matthew 5:13-16
13 "You are the salt of the earth. But if the salt loses its saltiness, how can it be made salty again? It is no longer good for anything, except to be thrown out and trampled by men. 14 "You are the light of the world. A city on a hill cannot be hidden. 15 Neither do people light a lamp and put it under a bowl. Instead they put it on its stand, and it gives light to everyone in the house. 16 In the same way, let your light shine before men, that they may see your good deeds and praise your Father in heaven.
Matthew 6:22 
22 "The eye is the lamp of the body. If your eyes are good, your whole body will be full of light.
John 9:5
5 While I am in the world, I am the light of the world."
Romans 13:12 
12 The night is nearly over; the day is almost here. So let us put aside the deeds of darkness and put on the armor of light.
All verses are from the NIV.
If you liked this Sunday School/Homeschooling idea, then sign up to receive Scripture Lady's Free Email Kid Tips packed full with creative ideas and receive 6 FREE Bible Review Games to help get the kids you minister to excited about the Bible! Just go to www.MyFreeBibleGames.com to fully subscribe.
Also, don't forget to "LIKE" me on Facebook. Just click on my Facebook logo to the right. Thank you!
If you're into Twitter, click on the cute little bird!
"The fruit of the Spirit is love, joy, peace, patience, kindness, goodness, faithfulness, gentleness and self-control."
Galatians 5:22-23