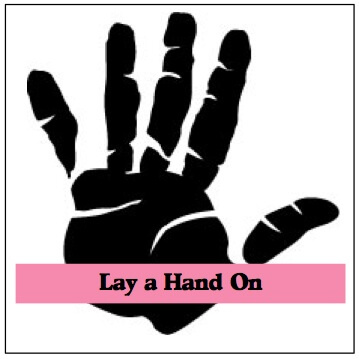 The Scripture Lady loves creating Bible verse games for kids! Here is one called "Lay a Hand On" to help learn Luke 4:40.
I 'm always looking for games that go together with a verse so I am giving you one I found that will go perfectly with Luke 4:40:  "When the sun was setting, the people brought to Jesus all who had various kinds of sickness, and laying his hands on each one, he healed them."  That's the Scripture.  Here's the Bible verse game.  My version is an adaptation of "Lay a Hand On" from The Ultimate Indoor Games Book by Veronica Gunter.
Bible verse games will help your kids hide God's Word in their hearts and for this one you will need to do the following:
1.  One player is the Caller. The rest of the group just stands throughout the room.
2.  When everyone is in place, the Caller starts the game by telling the players the first "thing" they must touch.  Everything called must be found within reach of everybody else.  So, if a player is wearing red shoes, the Caller might say, "Lay a hand on red."  Everyone will have to touch the shoes unless they find something else red (such as someone's hair).
3.  The Caller should keep changing what the players are touching.  Be creative.  You might say, "Lay a hand on something soft" or "Lay a hand on Tyler (or someone in your room)."
4.  Finally, the Caller needs to catch the group off guard by yelling out, "And Jesus healed them!"  When the group hears this they are all supposed to sit down as fast as possible.  Whoever was the last to sit down gets to pick who the next Caller will be.
Use this game to explain to your kids the importance that the Bible places upon the laying on of hands.  You could also encourage them to use their concordances to look up other verses referring to this topic.
If you liked this Sunday School/Homeschooling idea, then sign up to receive Scripture Lady's Free Email Kid Tips packed full with creative ideas and receive 6 FREE Bible Review Games to help get the kids you minister to excited about the Bible! Just go to www.MyFreeBibleGames.com to fully subscribe.
Also, don't forget to "LIKE" me on Facebook. Just click on my Facebook logo to the right. Thank you!
If you're into Twitter, click on the cute little bird!
"When Your words came, I ate them. They were my joy and my heart's delight."
Jeremiah 15:16
(Click here for a sample of this Bible verse song.)