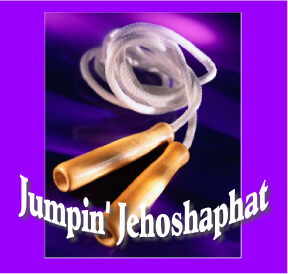 The Scripture Lady loves creating Bible memory verse games! Here is one called "Jumpin' Jehoshaphat" to make memorizing Scripture fun.
Did you ever jump rope when you were a kid?  Chances are, if you are a girl, the answer is "Yes", but if you are a boy, you might not have branched over into this girls' territory very often.  I introduced a jump rope into my Sunday School many years ago and I have to say, it has always been a hit.  Here are 3 different ways to have some Bible review fun that your class is sure to enjoy and will ask for more.
Bible memory verse games will help your children hide God's Word in their hearts and for this one you will need to do the following:
First of all, for all the following activities you will need a long jump rope.  I actually went to my local hardware store into their rope section and bought a 10 foot long piece.  It was really cheap and it has lasted a long time.   You will also need a die.  I made a large one out of an 8 inch box I bought at my local box store.  I then went onto my computer and printed off some nice colorful numbers (1 through 6) that I laminated and attached to the sides of the box.  The kids really like the big size.  Now here are the activities:
1. The first game you can play is a memory verse game.  Pick a verse that your children have been working on.  Divide your class into two teams and invite a child to come forward from the first team and ask him to recite the verse from memory.  If he is successful, let him roll the die 2 times.  Add the 2 numbers together.  This is the number of times the child must jump the rope.  You and another adult or responsible child can turn the rope.  The child can choose to either run into the rope or start his jumping at a standstill.  If the child is successful, he earns the number of points he rolled to jump times 100.  For example, if the child rolled a 7, he would earn 700 points for his team.
2. The second game follows the same rules as the first, but instead of having the kids recite just one verse that you have been working on, let them choose a verse of their choice before rolling the die.
3. Finally, on the third activity, follow the same rules as the first game, but instead of quizzing your class on a memory verse, test them on some Bible review questions you have come up with beforehand.
By the way, do not, I repeat do not think that these jump roping games are just for your girls.  The boys will love them just as much!
Just in case you're interested, you might want to check out this book with even more Bible lessons for your children: Bible Memory Verse Games For Children: 50 Fun and Creative Activities to Help Kids Learn–and Remember–God's Word
If you liked this Sunday School/Homeschooling idea, then sign up to receive Scripture Lady's Free Email Kid Tips packed full with creative ideas and receive 6 FREE Bible Review Games to help get the kids you minister to excited about the Bible! Just go to www.MyFreeBibleGames.com to fully subscribe.
Also, don't forget to "LIKE" me on Facebook. Just click on my Facebook logo to the right. Thank you!
If you're into Twitter, click on the cute little bird!
"I will tell of the kindnesses of the Lord."
Isaiah 63:7