Freddy the Butterfly is a New Creation will delight your young children as they see a caterpillar turn into a butterfly!
This engaging Bible object lesson is one of my favorites to share with little ones. Hopefully, it will become one of your favorites as well.
This Bible object lesson is based on 2 Corinthians 5:17, which says: "If anyone is in Christ he is a new creation. The old has gone, the new has come."
Isn't it wonderful that God wants to give each of us a new life filled with the power of His Holy Spirit for now and for all eternity?!
For centuries, the butterfly has been a beautiful picture to Christians of God's great transforming power. It is mind boggling how a caterpillar can change from a worm to a magnificent butterfly. Scientifically, the change that takes place from a caterpillar to a butterfly is actually a picture of death and resurrection.
Eminent biologist, Bernd Heinrich, says the following about the transformation of a caterpillar to a butterfly: "[T]he radical change that occurs," he says, "does indeed arguably involve death followed by reincarnation." (https://www.npr.org/sections/krulwich/2012/08/01/157718428/are-butterflies-two-different-animals-in-one-the-death-and-resurrection-theory)
The caterpillar actually dies before it can become a new creature. Hmmm…this sounds a lot like how we must die to ourselves when we accept Jesus as our Lord and Savior. When God brings this death in our lives, then He raises us up from the dead to walk in His newness of life.
Romans 6:4 says it so well: "We were buried therefore with him by baptism into death, in order that, just as Christ was raised from the dead by the glory of the Father, we too might walk in newness of life."
Granted, your young child may not be ready to understand the great theology of what it means to be a "new creation in Christ," but it is never too early to begin sharing this truth in creative ways, such as teaching the lesson of Freddy the Butterfly is a New Creation.
In this article, I am actually going to give you FREE access to this Bible object lesson. I don't feel I can sell this product because it is based on Barry Mitchell's version of this lesson. Who is Barry Mitchell? If you've never heard of this great storyteller and magician, you are in for a treat. Barry is a talented man who loves to tell stories through the art of magic tricks. I greatly encourage you to go to his site and look around at all the great products that he sells. Here is Barry's site: https://barrymitchellproducts.com/
Several years ago, I found Barry and his wonderful products and fell in love with his caterpillar and butterfly silks. An extra bonus, was seeing Barry use them in person at a lecture I attended. I bought the silks and took his version of the lesson and tied it more into my lesson on how God makes us into new creations.
Therefore, while I am giving you my version of this sweet presentation for FREE, you will need to purchase the silks and the other things I use to share this lesson. The list of everything you need will be found on the page of downloads at the link below. (I don't receive any remuneration from Barry Mitchell's products.)
On this page will be the downloadable video of this lesson along with how to perform it on your own. This page has the following password: ButterflyFred
CLICK HERE TO BE TAKEN TO THE LESSON   The password is: ButterflyFred
Check out the presentation video of Freddy the Butterfly is a New Creation.
In addition to giving you Freddy the Butterfly is a New Creation, I am also giving you my FREE Bible verse song of "New Creation." I wrote this song many years ago and it is still one of my favorites. It is an homage to my French Christian brothers and sisters. As you listen to it, you will hear my attempt at a french accent!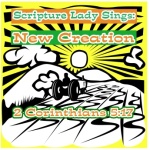 CLICK HERE FOR THE FREE DOWNLOADABLE SONG.
Here is a video of the moves to this song.
If you like this song and would like access to the downloadable version of this video, then click HERE to purchase the video for only $2.49.
Last but not least, I thought it would be fun to provide you with a fun coloring page for your kids. Perhaps you can give it to them after you present the lesson. Just click on the picture below to print.
If you liked this Sunday School/Homeschooling idea for Freddy the Butterfly is a New Creation, then sign up to receive Scripture Lady's Free Email Kid Tips packed full with creative ideas and receive 12 FREE Bible Games and Songs to help get the kids you minister to excited about the Bible! Just go to www.MyFreeBibleGames.com to fully subscribe.
Also, don't forget to "LIKE" me on Facebook. Just click on my Facebook logo to the left. Thank you!
If you're into Twitter, click on the cute little bird!