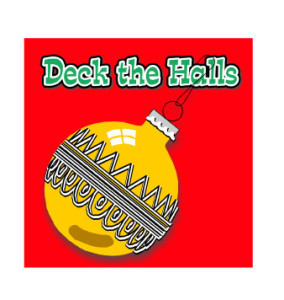 The Scripture Lady loves creating Holiday Bible games! Here is one for Christmas called "Deck the Halls" to teach some Bible trivia about Christmas.
How well do you know your Bible trivia about Christmas? For example, what was the name of the angel who visited Mary to tell her that she was going to have Jesus? Answer: Gabriel. Or, who were the first people to visit Jesus after He was born?  Answer: The shepherds. The Christmas story is one that every Christian should be very familiar with and it's never too early to share this great message of love with our children. So, why not do it in an extra fun way with a little bit of trivia and and a game I call "Deck the Halls?"
Holiday Bible games will help your children hide God's Word in their hearts and for this one you will need to do the following:
For this game you will need to prepare 30 to 40 cards. I made mine 3″ squares. On one side of the card, show a picture of a Christmas tree. On the other side of the card, show a picture of a colorful ornament. On 5 of the cards, write the word "Sorry" instead of showing an ornament. Make sure that the children cannot see the word from the other side. Laminate the cards for long-term use. Next, create or draw 2 Christmas trees on a board or a wall, one for each team. The children will "decorate" their trees with the cards, so you will want to make your trees big enough to accommodate this. Finally, you will need to come up with 10 to 12 Bible trivia questions about Christmas. I did a quick search on Google and found these sites that you might want to check out:
http://christianity.about.com/library/blchristmasquiz/bl_christmas_quiz.htm
http://biblequizzes.org.uk/quiz.php?therealchristmasquiz
Here's how to play:
For this game, I use a pocket chart. (You can find pocket charts at your local teacher supply store or online at www.orientaltrading.com)  Place the cards tree side out on the chart in random order. Divide your children into 2 teams. Tell the children that you are going to find out how well they know some Bible trivia about the true Christmas story. Have a child come up from the first team. Ask him a Bible trivia question about Christmas. If the child answers the question correctly, he will then have the chance to pick up to 3 cards from the "Deck the Halls" cards.  Remind the child that there are also 5 cards on the board that say the word, "Sorry!"  If the child picks a "Sorry" card, he will lose the cards he picked on his turn. But if he only chooses ornaments, he will then get to "decorate" his team's tree with the cards he chose.  The child does not have to pick all 3 cards during his turn.  He can stop if he is afraid he might find a "Sorry" card.  Play until all the trivia questions have been asked.  The team with the most ornaments on their tree wins.
If you liked this Sunday School/Homeschooling idea, then sign up to receive Scripture Lady's Free Email Kid Tips packed full with creative ideas and receive 6 FREE Bible Review Games to help get the kids you minister to excited about the Bible! Just go to www.MyFreeBibleGames.com to fully subscribe.
Also, don't forget to "LIKE" me on Facebook. Just click on my Facebook logo to the right. Thank you!
If you're into Twitter, click on the cute little bird!
"As God's chosen people, holy and dearly loved, clothe yourselves with compassion, kindness, humility, gentleness and patience."
Colossians 3:12