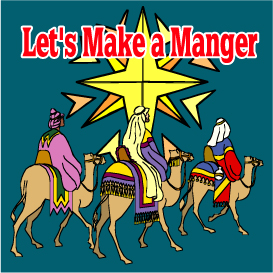 The Scripture Lady loves creating Holiday Bible games! Here is one for Christmas called "Let's Make a Manger" to teach about the characters of the manger scene.
Yea! It's almost Christmas time! And hopefully you are just as excited about this time of year as your little ones are. There are so many new sights and sounds and scrumptious goodies vying for our children's attention at this time of year, so we need to do our best at directing them to the real reason for the season – Jesus! So why not start things off right by teaching your preschoolers all of the major characters in the wonderful Christmas story? You can do this in a creative way by playing "Let's Make a Manger."
Holiday Bible games will help your children hide God's Word in their hearts and for this one you will need to do the following:
For this game you will need to prepare 3 sets of 12 different pictures of the most common characters in the Christmas manger scene. I have provided you with the list of characters that I used. I suggest you make the first set of cards each 8.5″ x 5.5″. These need to be big enough to lay on the floor upon which your children will actually walk as in a "cake walk." The second set of cards can really be as small or as large as you would like. You are going to create a manger scene with the second set of cards. I just used a copy of the same size of pictures from my first set of cards. Create a third set of cards that are small enough to place in a hat or bucket. I made mine 3″ x 3″. Laminate all the cards for long-term use.
Finally, you might want to create or simply draw a simple manger/barn type picture in which the children will place the characters. Make it big enough to hold all the pictures.
List of Manger scene characters: An angel, heavenly host, Joseph, a shepherd, Jesus, Mary, a cow, a dove, a donkey, a sheep, a star and the wise men.
Here's how to play:
Place the first set of cards down on the floor in a large circle. Have all your children pick a picture to stand on. Tell them that you will play a Christmas song. While the song is playing, have the children walk around the circle stepping on the pictures. Explain that when you stop the music, everyone must freeze in their spots. Now let one of the children reach into the bucket and pull out a character. Whoever is standing on that character gets to place it in the manger scene. Play in this fashion until all the cards have been picked.
The goal of the activity is to create a beautiful manger with all the pieces. At the end, remind your children that every part of the manger scene is important. God had the birth of Jesus all planned out just like He plans every birth of every child all over the world.
If you liked this Sunday School/Homeschooling idea, then sign up to receive Scripture Lady's Free Email Kid Tips packed full with creative ideas and receive 6 FREE Bible Review Games to help get the kids you minister to excited about the Bible! Just go to www.MyFreeBibleGames.com to fully subscribe.
Also, don't forget to "LIKE" me on Facebook. Just click on my Facebook logo to the right. Thank you!
If you're into Twitter, click on the cute little bird!
"Call to me and I will answer you and I will tell you great and unsearchable things you do not know."
Jeremiah 33:3