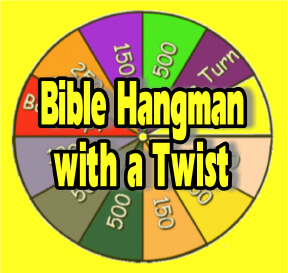 The Scripture Lady loves creating Bible review games! Here is one called "Bible Hangman with a 'Twist.'" 
Unless you live on another planet, you have probably seen the popular game show "Wheel of Fortune".  But why let Pat "Flapjack" and Vanna "Pink" have all the fun with this Bible activity for kids?  You can play your own version that I like to call "Bible Hangman with a Twist".
Bible review games will help your children learn God's Word in a fun way and for this one you will need to do the following:
As we all know, "Wheel of Fortune" is simply an exaggerated version of the children's classic "Hangman".  One of the best parts about the TV game show is watching the wheel spin around.  The suspense of wondering where the wheel will land adds to the excitement.  So, why not create your own wheel or spinner?  You can get as elaborate or as simple as you like.  I actually have a large 3ft. x 3ft. spinner that my husband created for me.  The circle in the middle contains 10 different colors along with the spinning arrow.  It's also laminated, so I can easily tape on different points or game pieces that go with the particular game I am playing.  For "Bible Hangman with a Twist" I display the following point values:  4 – 50's, 3 – 75's, 2 – 100's and the black space is "Bankrupt".
If you don't want to be as elaborate, just grab a durable paper plate and divide it into 10 "pie" pieces and use the same point values listed above.  Your "arrow" can simply be a paper clip that is attached to a brad poked through the center of the spinner. Finally, once you have your spinner, think up a name of a Bible character and draw the spaces the name requires on a board for all the class to see.
Divide your class into 2 teams.  Decide which team will go first.  One child from team one will come to the spinner and spin for his possible point value.  As long as he doesn't land on a bankrupt space, he is allowed to guess a letter for the Bible character.  If he picks a correct letter, his team earns the amount of points spinned.  However, if he picks an incorrect letter, the play goes to the next team.  If a team spins a bankrupt they will lose all of their points and has to start from scratch.  The first team to guess the Bible character is the winner.  Happy spinning!
If you liked this Sunday School/Homeschooling idea, then sign up to receive Scripture Lady's Free Email Kid Tips packed full with creative ideas and receive 6 FREE Bible Review Games to help get the kids you minister to excited about the Bible! Just go to www.MyFreeBibleGames.com to fully subscribe.
Also, don't forget to "LIKE" me on Facebook. Just click on my Facebook logo to the right. Thank you!
If you're into Twitter, click on the cute little bird!
"When Your words came, I ate them. They were my joy and my heart's delight."
Jeremiah 15:16