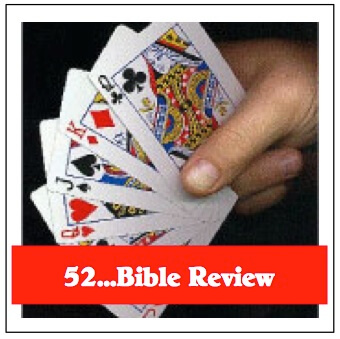 The Scripture Lady loves creating Bible review games! Here is one called "52…Bible Review!" to help you with creative Bible review.
I love to come up with creative ways to review a Bible lesson. A simple deck of cards, along with a few "add-ons", can be used to get your kids excited about Bible review time and leave them begging for more.
Bible review games will help your children learn God's Word in a fun way and for this one you will need to do the following:
What You Need: A deck of cards (I actually found a giant deck of cards at my local dollar store. Bigger is always better, especially if you have a large class.) and six index cards upon which you will write one each of the following words: add 20, add 30, add 40, add 50, add 100 and the word "multiply". Place the six index cards in a bucket or bag into which the kids can easily grab. You will also need a list of 10 to 20 Bible review questions that you would like to ask your children.
How to Play: Divide your class into two teams. Tell your class that they are going to play "52…Bible Review". Proceed to either lay the cards face down in a pile on a table or you can spread the cards around face down on a table. You choose. Tell your children that the Ace counts as one, the Jack counts as 11, the Queen counts as 12 and the King counts as 13. Now show the class the bag, which contains the index cards. Explain to the children that if they answer a Bible review question correctly, they will then be allowed to pick up two cards from the table. After choosing their two cards, they must then reach into the bag and pick out an index card. If they choose one of the "add" cards, they will add that number to the sum of the number of their two cards. So, for example, if the child picks a 5 and a 9 and then chooses an "add 30" card, the total for his turn will be 44. Choosing a "multiply" index card means the two cards that were chosen should be multiplied to obtain the score. So, for example, if the child picks a King and a 3, then his score would be 39. Go back and forth between the two teams until all of the Bible review questions have been asked. The team with the highest score, wins!
Just in case you're interested, you might want to check out this book with even more Bible lessons for your kids: The Big Book of Kids Sermons and Object Talks (Big Books)
If you liked this Sunday School/Homeschooling idea, then sign up to receive Scripture Lady's Free Email Kid Tips packed full with creative ideas and receive 6 FREE Bible Review Games to help get the kids you minister to excited about the Bible! Just go to www.MyFreeBibleGames.com to fully subscribe.
Also, don't forget to "LIKE" me on Facebook. Just click on my Facebook logo to the right. Thank you!
If you're into Twitter, click on the cute little bird!
"Whatever is true, whatever is noble, whatever is right, whatever if pure, whatever is lovely, whatever is admirable, if anything is excellent or praiseworthy – think about such things."
Philippians 4:8