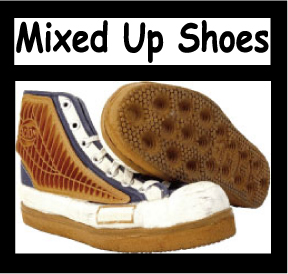 The Scripture Lady loves creating Bible memory verse games! Here is one called "Mixed Up Shoes" to make memorizing Scripture fun.
OK. I admit this memory verse game to help your kids learn their Bible verses could give off quite an interesting odor, but I believe after you've played it, you'll discover that any nasal discomfort will be worth it.
Here's how you play this great Bible review game for kids:
What You Need: Actually, all you need is a classroom of kids – at least 4 should do, but the game could also be played with a large group – and a Bible verse that you are learning to memorize. You will also need 2 people to listen to the children as they say their Bible verses. One of these two people could be you, the teacher.
How to Play: Divide your class into two teams. Explain that you are going to test how well they know the Bible verse they have been working on. Tell them that things might get pretty smelly since you would like them all to take their shoes off and place them in one big pile. Now have your two teams stand on one side of the room, with each team forming their own line. The Bible verse listeners will stand at the opposite end of the room. When you shout, "On your mark, get set, GO!" explain that the first people on their teams are to run to their Bible verse listener. Once they reach her or him, they are to say their Bible verse. If they say it correctly, they may go to the pile of shoes, find their pair and put them on then go back to their team. Once that child gets back to their team the next child in line gets to go. If the child does not say their Bible verse correctly, they must go to the end of the line of their team and wait their turn to try and say their verse again. The team who gets all of their shoes back on, is the winner!
If you liked this Sunday School/Homeschooling idea, then sign up to receive Scripture Lady's Free Email Kid Tips packed full with creative ideas and receive 6 FREE Bible Review Games to help get the kids you minister to excited about the Bible! Just go to www.MyFreeBibleGames.com to fully subscribe.
Also, don't forget to "LIKE" me on Facebook. Just click on my Facebook logo to the right. Thank you!
If you're into Twitter, click on the cute little bird!
"When Your words came, I ate them. They were my joy and my heart's delight."
Jeremiah 15:16