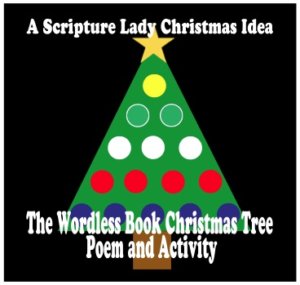 Enjoy this Wordless Book Christmas tree poem and activity during your holiday time with your children.
Christmas is a time of great wonder for our children. And while visions of Santa and sugar plums might dance around in their heads, it is important that they learn the true meaning of Christmas – Jesus. Here is a sweet little poem that combines the true meaning of Christmas along with the Wordless Book colors.
If you are not familiar with the Wordless Book colors, click here for a full explanation.
In a nutshell, the Wordless Book colors use the 5 colors of yellow, black, red, white and green to explain the gospel of Jesus Christ. Each color represents an important part of the gospel. For example, black represents the sin in our lives.
Take a look at a sample video of my presentation of this activity:

Click HERE to learn how to get all the downloadable visuals used for this activity for only $5.00!
I took a Christmas tree and added ornaments that match the Wordless Book colors and presented the following poem to the children during my Christmas program called "What Can I Give to Baby Jesus?"
To perform this poem you will need:
a star for the top of the tree
ornaments in a very dark color
ornaments that are red
ornaments that are white
ornaments that are green
ornaments that are yellow
lights for the tree
Follow along with the poem and let the children place the ornaments as best they can in rows.
At the end, they will love seeing the lights go on.
The Poem: Silent Night, Oh So Bright!
Once there was a silent night
Filled with Christmas wonder so bright
A tree in the town stood brave and tall
And wanted to show God's love to all
First it wanted a star on its top
That would make people stare and stop
The people then waited around to see



The other ornaments go on the tree
The first row of baubles were pretty, but dark
To remind people they had sin in their heart
The next row of trinkets were a bright, bright red
To help us remember the blood Jesus shed
The next ornaments were sparkling white
Jesus came to forgive us so with God we'd be right
The next decorations were green and had lace
To remind us to grow in God's love and grace
The last row of balls had a bright yellow hue
They told of Heaven where we'll be when this life is through
The tree was beautiful! It told all of God's love.
Now let's turn its lights on to give glory to God above.
Written by Kathy Vincent, The Scripture Lady
If you liked this Sunday School/Homeschooling idea, then sign up to receive Scripture Lady's Free Email Kid Tips packed full with creative ideas and receive 12 FREE Bible downloadable resources to help get the kids you minister to excited about the Bible! Just go to www.MyFreeBibleGames.com to fully subscribe.
Also, don't forget to "LIKE" me on Facebook. Just click on my Facebook logo to the right. Thank you!