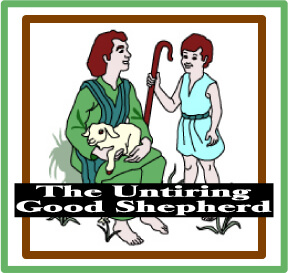 The Scripture Lady loves creating Bible object lessons for kids! Here is one called "The Untiring Good Shepherd."
Do you believe that Jesus is always doing His job?  Do you really think He never gets tired?  In our meager capacity of thinking, I know that it's hard to believe that Jesus never tires of being our Good Shepherd, but it is absolutely true and I for one am extremely thankful.  Here is a fun Bible object lesson to help your kids learn this important truth from an interesting passage of Scripture found in Micah 5:4.
Bible object lessons for kids will help the Bible's truths come to life and for this one you will need to do the following:
The object you will use for this lesson will be a picture of a shepherd carrying a sheep on his shoulders.  You can find several pictures of this by Googling: shepherd carrying sheep.  I actually found a really nice rendition of Jesus with a sheep on His shoulders.
Ask the following questions to help stimulate discussion:
1.     What does this picture show? (Hold up the picture and wait for a response.)  You're right.  It's a picture of a shepherd holding a sheep on his shoulders.
2.     What are some of the responsibilities of a shepherd?  (Wait for responses such as they feed the sheep and keep them from danger.)
3.     Did you know that the Bible calls people sheep and Jesus is called the Good Shepherd?  (Wait for responses.)  It's true.
4.     Ask a child to read Micah 5:4.  A famous preacher from the 1800's named Mr. Spurgeon looked at this verse and was reminded of how Jesus is like a shepherd who stands and feeds his sheep.
5.     Say the following: Let's learn a little more about this portion of Scripture and how it teaches us to live our lives for God.  Here are 3 important points about this truth.
Point 1: The Bible says that Jesus is our Good Shepherd and we are his sheep.  We have many needs and Jesus provides for each one of them.  Our Shepherd should be obeyed, but this should be done with lots of joy since Jesus is such a loving Shepherd.
Point 2:  The first part of today's verse says that, "He shall stand and feed."  This means that Jesus is always doing His job.  He never stops caring for us.  He is always guiding us, watching us, protecting us, healing us and caring for us.  The second part of our verse says, "…in the strength of the Lord."  Everything that Jesus does is through the strength of His Father.  God will never grow weary in caring for His children.  That its something that you can count on.
Point 3: Mr. Spurgeon said, "Jesus' heart never stops beating with love, and His shoulders never get tired of carrying His people's cares and problems."  Jesus is always doing what God wants Him to do because He loves you.  So, be a good sheep today and praise and thank Jesus for being your Good Shepherd.
This 3-Point Bible Object Lesson for Kids was inspired by my reading of C.H. Spurgeon's devotional on Micah 5:4 from his book Morning and Evening.  You too can be inspired by your favorite Christian authors and come up with your own 3-Point Sermon for Kids.
If you liked this Sunday School/Homeschooling idea, then sign up to receive Scripture Lady's Free Email Kid Tips packed full with creative ideas and receive 6 FREE Bible Review Games to help get the kids you minister to excited about the Bible! Just go to www.MyFreeBibleGames.com to fully subscribe.
Also, don't forget to "LIKE" me on Facebook. Just click on my Facebook logo to the right. Thank you!
If you're into Twitter, click on the cute little bird!
"Let your gentleness be evident to all. The Lord is near."
Philippians 4:5