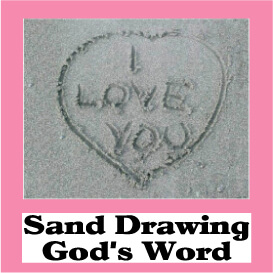 Most preschoolers like to touch and feel different textures.  Maybe that's why many of our parks are filled with sand boxes.  So why not bring the sandbox to your preschooler along with a great Bible memory verse?
For this activity, you will need a small tray or pan about 6" x 6" for each child.  Now pour a thin layer of colorful sand that covers the bottom of the tray.   (Did you know you can add food coloring to sand to give it color?)  Pick a Bible verse that you can easily "draw" a simple symbol to – one that maybe has 5 to 6 strokes to it.  For example, try drawing a simple butterfly for II Cor. 5:17:  "If anyone is in Christ, he is an new creation…"  (A butterfly is a great picture of how Jesus transforms our lives.)  Or you might try drawing a sheep for John 10:4: "…his sheep follow him because they know his voice."
Break the verse up into the same number of sections that your symbol has.  Now say each part of the verse as you encourage your little one to "draw" the symbol in the sand.  The rhythmic sound of the verse along with the motion of drawing often aids in the memorization of a verse.  But of course all your preschooler cares about is whether or not it's fun.
Just in case you're interested, you might want to check out this book with even more Bible lessons for your preschoolers: INSTANT BIBLE LESSONS FOR PRESCHOOLERS–I AM GOD'S CHILD
If you liked this Sunday School/Homeschooling idea, then sign up to receive Scripture Lady's Free Email Kid Tips packed full with creative ideas and receive 6 FREE Bible Review Games to help get the kids you minister to excited about the Bible! Just go to www.MyFreeBibleGames.com to fully subscribe.
Also, don't forget to "LIKE" me on Facebook. Just click on my Facebook logo to the right. Thank you!
If you're into Twitter, click on the cute little bird!