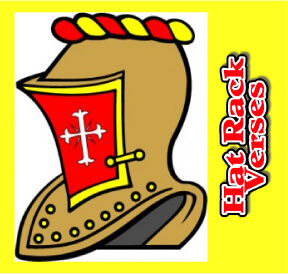 The Scripture Lady loves creating Bible memory verse games! Here is one called "Hat Rack Verses" to make memorizing Scripture fun.
As many of you know by now, I love all kinds of props.  Costumes are especially wonderful and hats are the topper.  This idea is an ongoing memory verse game that you may want to use in your home or classroom.
Bible memory verse games will help your children hide God's Word in their hearts and for this one you will need to do the following:
You will need some kind of hat rack and a variety of hats.  Thrift stores are a great place to find both – cowboy hats, top hats, clown hats, crowns, etc.  Now attach a Scripture to each hat that you want your children to eventually learn.  Work on each of the verses one at a time. When the child can successfully say the verse, they get to wear the hat for the day or during class.
Make a big deal of their success by taking their picture and emailing it to Grandma or displaying it on a bulletin board.  And remember, "The good man is covered with blessings from HEAD to foot…"  Proverbs 10:6 (TLB)
If you liked this Sunday School/Homeschooling idea, then sign up to receive Scripture Lady's Free Email Kid Tips packed full with creative ideas and receive 6 FREE Bible Review Games to help get the kids you minister to excited about the Bible! Just go to www.MyFreeBibleGames.com to fully subscribe.
Also, don't forget to "LIKE" me on Facebook. Just click on my Facebook logo to the right. Thank you!
If you're into Twitter, click on the cute little bird!