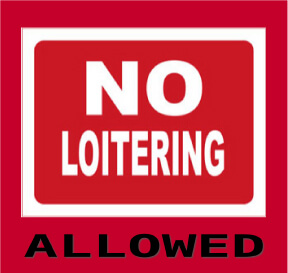 The Scripture Lady loves creating Bible object lessons for kids! Here is one called "No Loitering Allowed."
Do your kids know what it means to loiter?  Here are a few definitions found on dictionary.com for this word:
1.   to linger aimlessly
2.   to move in a slow, idle manner, making purposeless stops in the course of a trip, journey, errand
3.   to waste time or dawdle over work
Hmm.  Definitions such as these sure give loitering a bad rep and rightly so.  As Christians, the last thing we want to be doing is moving aimlessly through this life without purpose.  God has work for every one of His children and "no loitering is allowed".  Here is a fun Bible object lesson to teach your kids this important truth.
Bible object lessons for kids will help the Bible's truths come to life and for this one you will need to do the following:
The object you will use for this lesson will be a "No Loitering Allowed" sign.  You can actually go to Google Images and type in "no loitering sign" and many will pop up.  There is a great one there with the same sentiment, which says: If you have nothing to do, please don't do it here.  You might even want to print off several different ones to show your kids.  Laminate them for long-term use and maybe even attach them to paint sticks so that the kids can hold them.
Ask the following questions to help stimulate discussion:
1.     What am I holding? (Wait for a response such as "a no loitering sign.")
2.     That's right.  What does it mean to loiter?  (Wait for responses.) The dictionary says that to loiter means
–  to linger aimlessly
–  to move in a slow, idle manner, making purposeless stops in the course of a trip, journey, errand
–  to waste time or dawdle over work
3.     Why would stores or certain places put up this sign?  (Wait for responses.)
4.     Loitering can get some people in trouble.  If you are not working or doing something specific, then chances are you might end up doing something you shouldn't be doing.  Take for example the story of the parable of the vineyard workers.
5.     Share this story found in Matthew 20:1-7.
6.     Say the following:  In verse 6 of our story, Jesus asks an important question:  "Why haven't you been working today?" (NLT)  You see, if you are a Christian, God has called you to do His work.  Let's learn a little more about this portion of Scripture and how it teaches us to live our lives for God.  Here are 3 important points about this truth.
Point 1: We've learned that loitering is just a fancy word for standing around and doing nothing.  You might see a "No Loitering Allowed" sign in front of a shop or on a street corner.  Policemen can even force you to move along if you are loitering where you shouldn't be.
Point 2: God doesn't want us to loiter either.  He needs you and all His children to be out doing His work so that the people in this world can learn how much He loves them.
Point 3: There are many stories in the Bible about people who worked hard for God.  There are also many wonderful stories today about missionaries and pastors and Christian workers and kids just like you who have also worked hard for God.  Why don't you be one of God's workers?  This world needs Jesus.  Don't just stand there, go and tell them about God.
This 3-Point Bible Object Lesson for Kids was inspired by my reading of C.H. Spurgeon's devotional on Matthew 20:6 from his book Morning and Evening.  You too can be inspired by your favorite Christian authors and come up with your own 3-Point Sermon for Kids.
If you liked this Sunday School/Homeschooling idea, then sign up to receive Scripture Lady's Free Email Kid Tips packed full with creative ideas and receive 6 FREE Bible Review Games to help get the kids you minister to excited about the Bible!    Just go to www.MyFreeBibleGames.com to fully subscribe.
Also, don't forget to "LIKE" me on Facebook.  Just click on my Facebook logo to the right.  Thank you!
If you're into Twitter, click on the cute little bird!
"Let everything that has breath, praise the Lord!"
Psalm 150:6