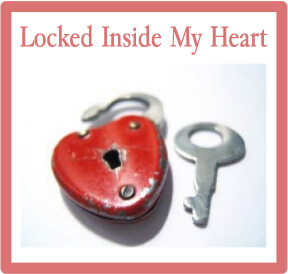 The Scripture Lady loves creating Bible object lessons for kids! Here is one called "Locked Inside My Heart."
Is Jesus more important than anyone or anything to your children?  Do they love Him with their whole heart and have Him locked inside?  Here is a fun Bible object lesson to help get your kids thinking about this important truth.
Bible object lessons for kids will help the Bible's truths come to life and for this one you will need to do the following:
The object you will use for this lesson will be a locket.  Inside the locket, place a small paper with the name of Jesus on it.  Wear the locket around your neck.
Ask the following questions to help stimulate discussion:
1.     What am I wearing around my neck? (Wait for a response.)  You're right.  It's a locket.
2.     Do any of you have a locket?  (Wait for responses.)
3.     What usually goes inside a locket?  (Wait for responses such as people we love and care about.)
4.     Do you want to see whom I have in my locket?  (Let a child open your locket and pull out the small paper with the name of Jesus.)  It's Jesus.  I love Jesus more than anyone or anything else.  I want Him to stay inside my heart forever.
5.     Song of Solomon 1:4 says "the upright love thee."
6.     Say the following:  I wonder how many of you truly love Jesus more than anyone or anything.  Is He living inside of your heart?  Let's learn a little more about this portion of Scripture and how it teaches us to live our lives for God.  Here are 3 important points about this truth.
Point 1: Christians love Jesus more than any other person in the world.  They love Jesus even more than their fathers or mothers or sisters or brothers or best friends. Song of Solomon 1:4 says "the upright love thee."
Point 2: Your love for Jesus should make you want to lock Him up in your heart.  Jesus wants to live there more than anywhere else and you should never want Him to leave.
Point 3: But sometimes people may try to unlock the lock of your heart and try to take Jesus out of your heart.  But don't worry.  They wont' succeed.  They'll never be able to find the key as long as you love Him.  There is a wonderful Bible verse which says "For I am convinced that neither death nor life, neither angels nor demons, neither the present nor the future, nor any powers, neither height nor depth, nor anything else in all creation, will be able to separate us from the love of God that is in Christ Jesus our Lord."  This is a truth you can count on for your whole life.
This 3-Point Bible Object Lesson for Kids was inspired by my reading of C.H. Spurgeon's devotional on Song of Solomon 1:4 from his book Morning and Evening.  You too can be inspired by your favorite Christian authors and come up with your own 3-Point Sermon for Kids.
If you liked this Sunday School/Homeschooling idea, then sign up to receive Scripture Lady's Free Email Kid Tips packed full with creative ideas and receive 6 FREE Bible Review Games to help get the kids you minister to excited about the Bible! Just go to www.MyFreeBibleGames.com to fully subscribe.
Also, don't forget to "LIKE" me on Facebook. Just click on my Facebook logo to the right. Thank you!
If you're into Twitter, click on the cute little bird!
"Thanks be to God! He gives us the victory through our Lord Jesus Christ."
1 Corinthians 15:57