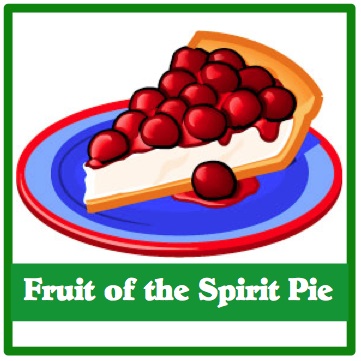 The Scripture Lady loves creating Bible verse games for kids! Here is one called "Fruit of the Spirit Pie" to help learn Galatians 5:22.
I know you've heard of apple pie and peach pie.  You might have even heard of shoo-fly pie.  But have you ever heard of fruit of the spirit pie?  Here is a Bible verse game that will help your kids memorize one of the most loved verses of the Bible, Galatians 5:22, which says: "The fruit of the Spirit is love, joy, peace, patience, kindness, goodness, faithfulness, gentleness and self-control."  This Bible game for kids also might make your kids a little hungry.
Bible verse games will help your kids hide God's Word in their hearts and for this one you will need to do the following:
You will need to make a pie chart that has 10 pieces to it.  You could either draw this outside on pavement with some chalk or you could draw it on a chalkboard or dry erase board or you could construct a colorful one from poster board.  It's your choice. Next, write one of the fruits of the spirit alongside each pie piece.  There are nine of them: love, joy, peace, patience, kindness, goodness, faithfulness and self-control.  Near the tenth piece of pie, write the Bible reference, Galatians 5:22.  Eventually, all of these words will be erased or covered up.  In the corner of each piece of pie, write a number 1 through 10.  Have the number one begin with the word love, 2 – joy, 3 – peace, 4 – patience, 5 – kindness, 6 – goodness, 7 – faithfulness, 8 – gentleness, 9 – self-control and 10 – Gal. 5:22.  After this, make or gather 30 red circles and 30 orange circles big enough so that 6 of each could fit inside a piece of the pie.  The red circles will stand for cherries and the orange circles will stand for oranges.  Finally, grab a bag into which you will put cards that have the numbers 1 through 10 written on them.  You are now ready to play the game.
Divide your class into 2 teams.  One will be the cherries and the other oranges.  Have one child come up from the first team – cherries.  He must say the Bible verse correctly.  If he says it correctly, he gets to reach into the number bag and pull out a number.  Let's say it was the number 3.  He will add a cherry to pie piece number 3.  The child puts the number 3 back into the bag.  The next team is up and does they same thing.  The first team to get 3 pieces of their fruit in one of the pie pieces is the winner.
Now, it's important to realize during this Bible school activity that the kids are allowed to look at the pie while reciting the verse.  At first, it will be very easy for them.  However, when a pie piece ends up with 2 pieces of fruit (either cherries or oranges) inside a "slice", then the word next to that slice is erased or covered up.  As the game progresses, reciting the verse will become more difficult.  Anyone for whipped cream?
Just in case you're interested, you might want to check out this book with even more Bible memory games for your kids: Bible Memory Verse Games For Children: 50 Fun and Creative Activities to Help Kids Learn–and Remember–God's Word
If you liked this Sunday School/Homeschooling idea, then sign up to receive Scripture Lady's Free Email Kid Tips packed full with creative ideas and receive 6 FREE Bible Review Games to help get the kids you minister to excited about the Bible! Just go to www.MyFreeBibleGames.com to fully subscribe.
Also, don't forget to "LIKE" me on Facebook. Just click on my Facebook logo to the right. Thank you!
If you're into Twitter, click on the cute little bird!
"The fruit of the Spirit is love, joy, peace, patience, kindness, goodness, faithfulness, gentleness and self-control."
Galatians 5:22-23