The Scripture Lady loves creating Bible verse games for kids! Here is one called "Feather Duster Toss" to help learn 1 John 1:9.
I don't know about your mom, but mine is a fierce duster. I grew up in a dust-free home. God is fierce about cleansing His children from sin. I John 1:9 says this: "If we confess our sins He is faithful and just to forgive us of our sins and to cleanse us from all unrighteousness."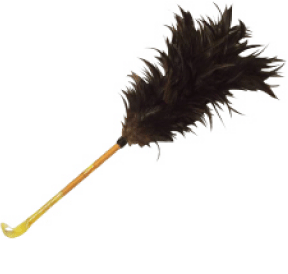 When I was trying to come up with a song for this Scripture, I thought of a feather duster simply because when we confess our sins, God cleans our hearts from all unrighteousness. Feather dusters are great cleaners too and can be a great reminder of this verse especially if you play "Feather Duster Toss."
Bible verse games will help your kids hide God's Word in their hearts and for this one you will need to do the following:
For this Bible verse game, you will need 10 feather dusters. I found mine at my local dollar store. You will also need to create an index card for each word in I John 1:9.
There are 25 words in this verse including one each for the book – I John – and one for the chapter and verse. It would be best to place these cards on a pocket chart, but a table will be OK. Place the cards face down and in correct order. Finally, you will want to draw or create a circle on the floor about 36" in diameter.
Place a marker about 10 feet to 15 feet away from the circle. The child will toss the duster from this point.
You are now ready to play the game.
Introduce I John 1:9 to your class by saying the following: What does a duster do? (Wait for response.) Right.
A duster gets rid of dust, dirt and grime. What is in our life that needs to be cleaned away? (Wait for response.) Yes. Our sin. What is sin? Try this definition with me. Sin is anything I think…(Point to your brains, because this is where God has us think) Sin is anything I say…(Point to your mouth because this is where we speak) and sin is anything we do…(Move your fingers in front of you from left to right to symbolize doing something) …that displeases God. (Point up to God.)
I John 1:9 says that if we confess our sins, He will cleanse us from all our unrighteousness. What does it mean to confess? To confess our sins means we tell God what we have done wrong. Does God already know what we've done wrong? Of course! He's God. He knows everything. But He wants us to say what we've done wrong so that we acknowledge and understand our sin. He wants to see our hearts. When our confession is real and sincere, God will always forgive us and get rid of everything that is not right.
Have the kids recite I John 1:9 several times. When they start to have a handle on it. Announce that they are going to play "Feather Duster Toss." Divide your class into 2 teams. Explain that a child from the first team will come up to the line 10 feet away from the circle. He will try and throw each of the 10 feather dusters into the circle.
For every duster that makes it completely inside the circle, the child will get to turn over one of the cards on the verse. He must now say the verse correctly. If he does, he will earn his team the number of feather dusters inside the circle times 100. The next team is up. Make sure everyone has at least one chance to play. Your kids will love this!
Tip: A feather duster that lines on the line of the circle does not count.
If you liked this Sunday School/Homeschooling idea, then sign up to receive Scripture Lady's Free Email Kid Tips packed full with creative ideas and receive 6 FREE Bible Review Games to help get the kids you minister to excited about the Bible! Just go to www.MyFreeBibleGames.com to fully subscribe.
Also, don't forget to "LIKE" me on Facebook. Just click on my Facebook logo to the right. Thank you!
If you're into Twitter, click on the cute little bird!
"If we confess our sins He is faithful and just to forgive us of our sins and to cleanse us from all unrighteousness."
1 John 1:9