The Scripture Lady is thrilled to be able to share with you some of her favorite illustrations of Bible verses from ABDA ACTS Art and Publishing!
If you have never heard of ABDA ACTS Art and Publishing, you are in for a very big treat! This site comes out of Australia and boasts perhaps the largest library of beautifully illustrated Bible verse posters and Bible coloring pages of Scripture. Once you start "surfing" its pages, you will feel as though you stumbled upon hidden treasure. I found this site several years ago now, but it is definitely one of my all-time favorites.
Click one of the buttons below.
They'll take you where you want to go!
ILLUSTRATION OF GENESIS 1:1
ILLUSTRATION OF JOHN 6:35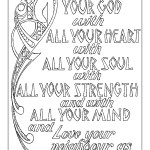 ILLUSTRATION OF STATEMENTS OF JESUS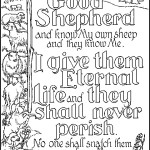 The artist, Fay Suter, does such a great job on all her Scripture posters. Your children will delight in seeing her work both in color and as Bible coloring pages. Many children love to color, so why not present them with a page of Scripture that will inspire their artistic abilities and their minds? For a fun activity, I will sometimes give out these coloring pages to my kids and encourage them to take the week to color the poster very well. If they bring it back the next Sunday, they will earn a candy bar.
Unfortunately, in 2010, one of the founders of the site passed away yet, thankfully, the site remains on the internet. We will continue to add to our library of ABDA ACTS Bible coloring pages here at ScriptureLady.com. We do have their full permission to do so and we are very thankful for their generosity.
What are some ways you can use these great posters?
1.  Print them off and hang them in your Christian classrooms or even in your homes.
2.  Give them to your children to use as an aide for memorization.
3.  Incorporate them in Bible review games or memorization activities.
4.  Have the children make greeting cards or bookmarks out of them.
5.  After the children color them, laminate them to create a placemat.
Please enjoy these works of art and be sure to pass this page along to others who might be interested.
"I am not ashamed of the Gospel because it is the power of God for the salvation of everyone who believes…"
Romans 1:16
(Click here for a sample of this Bible verse song.)