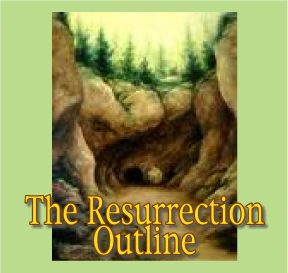 The Scripture Lady loves creating Holiday Bible games! Here is one for Easter called "The Resurrection Outline" to teach about the resurrection of Jesus.
As Easter approaches, we will be celebrating the resurrection of our Lord, Jesus Christ. My husband actually likes to call Easter, "Resurrection Sunday". I like this because it places the focus on Jesus and the ultimate miracle He performed for each one of us. Here is a colorful outline of the resurrection for your Easter Sunday School lesson based on Matthew 28:1-10 which says:
Now after the Sabbath, as the first day of the week began to dawn, Mary Magdalene and the other Mary came to see the tomb. And behold, there was a great earthquake; for an angel of the Lord descended from heaven, and came and rolled back the stone from the door, and sat on it. His countenance was like lightning, and his clothing as white as snow. And the guards shook for fear of him, and became like dead men. But the angel answered and said to the women, "Do not be afraid, for I know that you seek Jesus who was crucified. He is not here; for He is risen, as He said. Come, see the place where the Lord lay. And go quickly and tell His disciples that He is risen from the dead, and indeed He is going before you into Galilee; there you will see Him. Behold, I have told you." So they went out quickly from the
tomb with fear and great joy, and ran to bring His disciples word. And as they went to tell His disciples, behold, Jesus met them, saying, "Rejoice!" So they came and held Him by the feet and worshiped Him. Then Jesus said to them, "Do not be afraid. Go and tell My brethren to go to Galilee, and there they will see Me." (NKJV)
Please click HERE for the "Resurrection Poster".
It will help your children learn about some important phrases found in the passage of Matthew 28:1-10 all beginning with the letter "F" – First Day, Fear Not, First-Fruits and Fullness of Joy.
One way you could use this poster is to have the children look up each of these phrases in their concordance and find other times they are used.  You could also have them highlight the phrases in the verses found on the poster.  The last idea is to talk about what the resurrection means for each of these phrases.  For example, the first day signifies the entrance of a new era – the era of grace.  "Fear not" tells us that we know longer have to be afraid of the power of sin and death because Jesus has victory over both.  His resurrection is a sample and forerunner of the great harvest that is to come and finally, we can have great joy now, knowing that our Redeemer lives as well as look forward to the coming joy of Heaven.
If you liked this Sunday School/Homeschooling idea, then sign up to receive Scripture Lady's Free Email Kid Tips packed full with creative ideas and receive 6 FREE Bible Review Games to help get the kids you minister to excited about the Bible! Just go to www.MyFreeBibleGames.com to fully subscribe.
Also, don't forget to "LIKE" me on Facebook. Just click on my Facebook logo to the right. Thank you!
If you're into Twitter, click on the cute little bird!
"The fruit of the Spirit is love, joy, peace, patience, kindness, goodness, faithfulness, gentleness and self-control."
Galatians 5:22-23