Teach 7 ways God wants your kids to grow using this colorful outline. This free printable showcases 7 scriptures that highlight 7 areas of growth.
God wants your kids to grow in their relationship with Him. Teach 7 ways God wants your kids to grow through 7 Bible verses all about increasing in different areas of their lives.
What are the areas we can grow or increase in? Here are the 7 ways to grow which come from an outline by Charles Inglis.
Faith – Luke 17:5
Love – 1 Thessalonians 3:12
Joy – Isaiah 29:19
Greatness – Psalm 71:21
Strength – Isaiah 40:29
Knowledge – Colossians 1:10
Blessing – 1 Corinthians 3:6,7
I found Charles Inglis on the website called the Blue Letter Bible. This site is a GREAT resource for anyone who teaches the Bible. I love all of Mr. Inglis' outlines. He gives many biblical topics that can be creatively incorporated into any children's church curriculum. His writings are in the public domain and can be altered to fit any of your needs.
Today, I am giving you a free printable that you can share with your children to help them grow in their own relationships with Jesus.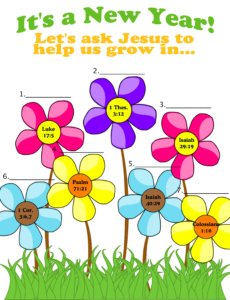 Click HERE for your FREE printable that teach 7 ways God wants your kids to grow.
How to use the outline:
Simply print off a copy of the outline for each child. Ask a child to look up the first verse and see if they can discover the area of growth that the Bible verse talks about.




For example, Luke 17:5 says this: And the apostles said unto the Lord, Increase our faith.
What is the area of growth this verse teaches about? Faith. Have the children write the word "Faith" above the correct flower that matches the verse.
To add some spice and competition to this activity, have the children race to see who can find the verse the fastest.
Finally, encourage the children to give specific ways they can grow in each of areas from the outline. For example, for the area of knowledge, the child might say he wants to commit to reading one chapter a day from the Bible to grow in his knowledge of God.
This activity pairs very nicely with 2 Peter 1:5-7, which says: "…make every effort to add to your faith goodness; and to goodness, knowledge; and to knowledge, self-control; and to self-control, perseverance; and to perseverance, godliness; and to godliness, brotherly kindness; and to brotherly kindness, love.
Take a look at this sample video of the moves to the song I wrote for this verse called "Make Every Effort":
Click HERE to get your own digital download of this song for only $0.99!
You could share this song before or after you present the outline I've given to you today.
Looking for some other fun Bible outlines to share with your kids?
Then click HERE for more "Amazing Acrostics and Outlines."
If you liked this Bible outline printable that teach 7 ways God wants your kids to grow, then sign up to receive Scripture Lady's Free Email Kid Tips packed full with creative ideas and receive 12 FREE Bible downloadable resources to help get the kids you minister to excited about the Bible! Just go to www.MyFreeBibleGames.com to fully subscribe.
Also, don't forget to "LIKE" me on Facebook. Thank you!