Share these great pictures of Jesus with children for Sunday School with your children during your Bible lesson or use them to decorate your classroom to add creativity and inspiration.
I LOVE finding great pictures of Jesus with children for Sunday School to share with the children I minister to. I often use these pictures during my musical Bible programs or during any time of ministry I have with kids.
We know that Jesus loves children. In fact, there is a wonderful Bible verse in Matthew 19:14, which says: "Jesus said, "Let the little children come to me, and do not hinder them, for the kingdom of heaven belongs to such as these."
In addition to sharing these great pictures of Jesus  with children for Sunday School, I also want to let you know about two opportunities you might be interested in. If you live in Southern or Northern California, you might want to take advantage of two events that I am excited to share about.
First upcoming event:
A Night of Fun Magic with Barry Mitchell on Monday, January 28th
7:00 pm – 9:00 pm – FREE
Highland Park Christian Church in the main church building, 4900 N Figueroa St, Los Angeles, CA 90042
For those of you who love to add a magical twist to your Bible object lessons, I encourage you to come to this very fun night. Barry Mitchell is one of my favorite magicians. He loves the Lord and loves to use the talents God has given Him to share the Gospel. I have bought a few of Barry's tricks to use in my own ministry and the kids LOVE them.
Barry will be showcasing many tricks this night, both secular and for the Christian audience. Barry's shows are always family friendly. All ages are welcome.
Second upcoming event:
The Scripture Lady is Coming to the San Jose, CA Area
During the weekend of Friday, April 26th through Sunday April 28th
I will be sharing two workshops at the Korean Conference for Child Evangelism Fellowship on Saturday, April 27th. I would love to come to your church or school on that Friday or Sunday.
Do you have a preschool or elementary school where I can perform one of my creative chapel times with your children on Friday, April 26th?
OR are you part of a church where I can perform for your children on Sunday morning, April 28th?
OR are you part of a church where I can share one or more of my workshops with your own teachers?
Please contact me if you are interested. I am happy to work within your budget to give you and event full of creativity and inspiration to grow in God's Word.
For bookings, contact me, Kathy Vincent, at thescripturelady@gmail.com.
Click on the images below for your great pictures of Jesus with children for Sunday School: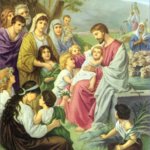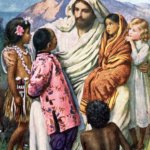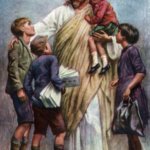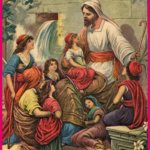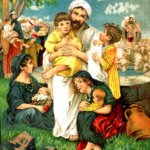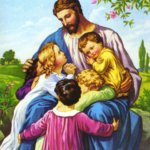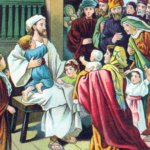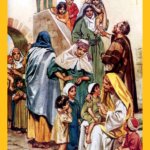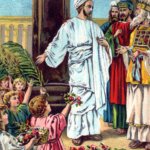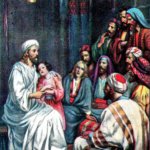 The Bible story pictures of Jesus with children come from a great resource which I purchased several years ago. They come from a 2-DVD collection called "The Ultimate Bible Picture Collection." All of these pictures are found in the public domain.
Looking for some other fun pictures of Jesus to share with your kids?
Then click HERE for some Bible story pictures of when Jesus fed the 5,000.
If you liked these pictures of Jesus with children for Sunday School, then sign up to receive Scripture Lady's Free Email Kid Tips packed full with creative ideas and receive 12 FREE Bible downloadable resources to help get the kids you minister to excited about the Bible! Just go to www.MyFreeBibleGames.com to fully subscribe.
Also, don't forget to "LIKE" me on Facebook. Thank you!