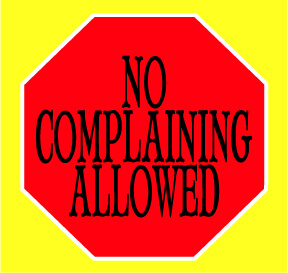 The Scripture Lady loves creating Bible lessons for kids! Here is one called "No Complaining Allowed" to help learn how not to complain.
One week while listening to the radio, I heard about a minister who is trying to promote the end of complaining.  There are even websites offering free bracelets to anyone who asks for them to wear as a reminder to quit this often times ugly habit. I think this is quite a noble undertaking considering complaining seems to be as virulent as any virus or cancer these days.  I wish I could tell you that I myself never partake in criticism of any kind, but I would be woefully wrong in saying so.
What does the Bible say about complaining?  Phillippians 2:14 says, "Do everything without complaining or arguing, so that you may become blameless and pure, children of God without fault in a crooked and depraved generation, in which you shine like stars in the universe as you hold out[a] the word of life …"  Wow!  That about sums it up.
So how do we get our kids to take this Scripture to heart? Well, perhaps you could start your own campaign against  complaining even if it's just for a day or a week.  For example, if you have a Sunday School class, tell the kids that if not one person complains during the class, that next week you will do something special to reward them.  You and the children might be surprised that this may actually end up taking a few Sundays to achieve, but it should end up being a really good lesson in the end.
In closing, I'll leave you with a list of synonyms for complaining which in itself should be eye opening and perhaps convicting.  Following God's commands aren't always easy, but ALWAYS worth it.
accuse, ascribe, attack, beef*, bellyache*, bemoan, bewail, charge, criticize, defy, denounce, deplore, deprecate, differ, disagree, disapprove, dissent, expostulate, find fault, fret, fuss, gainsay, grieve, gripe, groan, grouse, growl, grumble, impute, indict, lament, look askance, moan, nag, object, oppose, protest, refute, remonstrate, reproach, snivel, sound off, wail, whimper, whine, yammer
(From Thesaurus.com)
If you liked this Sunday School/Homeschooling idea, then sign up to receive Scripture Lady's Free Email Kid Tips packed full with creative ideas and receive 6 FREE Bible Review Games to help get the kids you minister to excited about the Bible! Just go to www.MyFreeBibleGames.com to fully subscribe.
Also, don't forget to "LIKE" me on Facebook. Just click on my Facebook logo to the right. Thank you!
If you're into Twitter, click on the cute little bird!
"Call to me and I will answer you and I will tell you great and unsearchable things you do not know."
Jeremiah 33:3