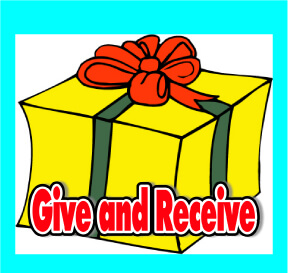 The Scripture Lady loves creating Bible lessons for kids! Here is one called "Give and Receive" to help learn about God's gifts.
Receiving a gift from someone you love is always a special treat.  Receiving a gift from God is life changing.  Below, you will find 10 verses that showcase God's gifts to His children along with a fun and easy Scripture game called "Give and Receive."
Bible lessons for kids will help your children hide God's Word in their hearts and for this one you will need to do the following:
Copy each of the verses below on index cards.  Do not write the comments.  You can simply read these from a printed copy of this page.  On the back of each card give 2 possible choices of where the verse is found.  Place all 10 of these verses in a bucket or bag from which the kids will pick.  You are now ready to play the game.
Divide your class into 2 teams.  Introduce "Give and Receive" in the following way:  Raise your hand if you've heard the Bible verse, "It is more blessed to give than to receive."  (Wait for response.)  Well, we are going to play a game called "Give and Receive" to help you understand this important truth.  Inside my bag are 10 gifts of God.  Each team will have a chance to pick a verse out of the bag.  I will give a short explanation about the verse.  On the back of each verse will be 2 possible places the verse is found.  You will need to guess which book is correct.  If you guess the correct book, your team will give away 100 points to the other team.  The team with the least points wins.
Ecclesiastes 3:13  (or Leviticus 4:10)
"And also that every man should eat and drink, and enjoy the good of all his labour, it is the gift of God."  King David's son, Solomon, wrote this Scripture.  He was very wealthy and God had blessed him hugely.  He understood that God wants us to enjoy this life we have and be thankful for everything.  All that we have comes from God.
Matthew 7:11  (or John 6:2)
"If ye then, being evil, know how to give good gifts unto your children, how much more shall your Father which is in heaven give good things to them that ask him?"  Do you believe that God will only give what is good for you?  He will.  He loves you even more than your earthly father or anybody else on earth.  Your family has probably given you some pretty nice things over the years.  As good as many of those gifts have been, they could never compare to the great gifts of God.
Acts 8:20  (or Romans 3:12)
"Peter answered: "May your money perish with you, because you thought you could buy the gift of God with money!"  Peter said this verse to a man named Simon.  Simon practiced sorcery, which is kind of like witchcraft.  He was trying to figure out how to make money off of the miracles the discples were performing.  Miracles are a free gift of God and no one should ever think that they can be bought.
Acts 2:38  (or 1 Peter 2:8)
"Then Peter said unto them, Repent, and be baptized every one of you in the name of Jesus Christ for the remission of sins, and ye shall receive the gift of the Holy Ghost."  The trinity of God is the Father, the Son and the Holy Spirit.  They are all One and they are all God and they all have their different characteristics.  The Bible says that the Holy Spirit comforts us and guides us.  Do you ever need comfort or guidance and direction?  If so, then remember to call on the Holy Spirit next time.  Remember, if you are a Christian, then God has given the Holy Spirit to you as a gift.
Romans 6:23  (or I Corinthians 5:3)
"For the wages of sin is death; but the gift of God is eternal life through Jesus Christ our Lord."  Can you truly think of any greater gift than to one day live eternally with Jesus in Heaven?  I know.  I know.  You love your Nintendo and skateboard.  But just think, Heaven will blow all the things you love here and now out of the water.  The Bible says that we can't even imagine how wonderful eternal life will be.  It truly will be an indescribable gift!
Romans 11:29  (or I Thessalonians 3:6)
"For God's gifts and his call can never be withdrawn."  This Bible verse should be a great comfort to every Christian.  It says that God will never take away His gifts from us.  No matter how much we mess up our lives, God will never ever take away all that He has given us.  That makes me very happy.
1 Corinthians 12:4  (or II Corinthians 12:4)
"Now there are diversities of gifts, but the same Spirit."  Look around you.  About how many people do you see?  (Wait for response.)  Did you know that God has given each of you different gifts in order to server Him better.  True.  Some of you might have the same gift as someone else, but no one can serve God with it quite like you can.  God made you unique.  There are lots of different Christians in this world, but they have all been given their gifts by the one and only Holy Spirit.
Ephesians 2:8-9  (or Galatians 4:10)
"For by grace are ye saved through faith; and that not of yourselves: it is the gift of God:  Not of works, lest any man should boast."  Many Christians have memorized this wonderful verse.  Why?  Because it reminds them that their salvation was not earned by anything great or wonderful that they did, but that it was a gift of God.  The very best gift of all.
1 Timothy 4:14  (or II Timothy 2:5)
"Neglect not the gift that is in thee, which was given thee by prophecy, with the laying on of the hands of the presbytery."  The apostle Paul was telling this Scripture to his young helper, Timothy.  He was encouraging him to keep growing in the gifts that God had given him, such as being able to share the good news of Jesus with others.  God has given each of your gifts as well and He wants you to keep growing in them.  For example, are you good at making friends and making people feel comfortable, then keep on finding new friends to make.  Has God given you the gift of creativity, then keep on being creative.  Don't stop.  Always keep growing!
James 1:17  (I John 8:3)
"Every good gift and every perfect gift is from above, and cometh down from the Father of lights, with whom is no variableness, neither shadow of turning."  Do you know someone who is a really good person, but they don't know God?  I do.  And I often think of this verse when I see someone do something really terrific, yet they have not accepted Jesus as their Savior.  You see, it's important to remember that EVERYTHING  good in this world comes from God whether or not people understand that those good things come from God or not.  So never be afraid to compliment people for the good they do.  In fact, if they are willing to listen, tell them that God gave them the ability to do the good thing that they did.
If you liked this Sunday School/Homeschooling idea, then sign up to receive Scripture Lady's Free Email Kid Tips packed full with creative ideas and receive 6 FREE Bible Review Games to help get the kids you minister to excited about the Bible! Just go to www.MyFreeBibleGames.com to fully subscribe.
Also, don't forget to "LIKE" me on Facebook. Just click on my Facebook logo to the right. Thank you!
If you're into Twitter, click on the cute little bird!
"But grow in the grace and knowledge of our Lord and Savior Jesus Christ.  To Him be glory both now and forever. Amen!"
2 Peter 3:18