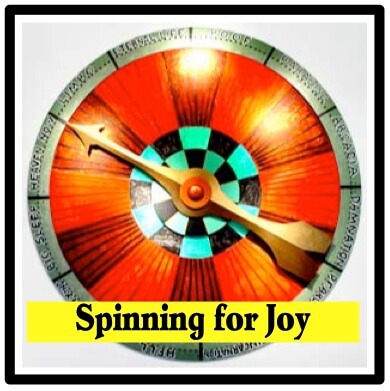 The Scripture Lady loves creating Bible verse games for kids! Here is one called "Spinning For Joy" to help learn Nehemiah 8:10.
Nehemiah 8:10 says this: "The joy of the Lord is my strength."  I think this Scripture is one of my favorites.  When I am joyful, I seem to have a ton of energy and strength.  When I am sad and depressed, I am very weak.  God knows we will have times of sadness, but He also knows that if we concentrate and meditate on the joy we have in Him, we can have abundant strength.  Here is a fun Bible verse game that will help your kids learn this wonderful verse.  It's called "Spinning for Joy."
Bible verse games will help your kids hide God's Word in their hearts and for this one you will need to do the following:
This game requires a bit of construction, but it is a game that you can use to help your kids learn any verse.  You will need to make a large circle about 24 inches in diameter.  (You can make it bigger if you'd like, especially if you have a large class.)  Separate the circle into 10 pieces of "pie."  In each slice of pie write one word of Nehemiah 8:10 as follows:  the, joy, of, the, Lord, is, my, strength, Nehemiah, 8:10.  Do not write the words in order.  (If you'd like to use this circle for other verses, just attach a word to each of the slices without making it permanent.)  Now make 5 to 6 sets of index cards with one word of the verse on each card.  In other words you will have 5 cards with the word "the" on them, 5 cards with the word "joy" on them and so on.  Make enough sets so that each child in your class will have a least 5 cards in his hand.  Shuffle these cards so that they are not in order.  The last thing you will need for this game is an empty glass soda bottle.  Place the bottle in the middle of the Bible verse spinner.  You are now ready to play the game.
This game will not be played between teams, but individually.  Introduce Nehemiah 8:10 to your class in the following way:  There are lots of things in this life that can make us feel really strong.  Watching your muscles grow as you get older can make you feel strong or having a lot of money in your piggy bank might make you feel strong.  But do you know what the Bible says is our strength?  It says that "the joy of the Lord is our strength."  That's' found in the book of Nehemiah 8:10.  Let's say this verse together many times.  The faster you learn the verse, the better are your chances for winning.
Now deal out at least 5 cards to each child in your class.  Explain that each of them will have a chance to spin the bottle that is in the middle of the Bible verse spinner.  But before he spins, he must say Nehemiah 8:10 correctly.  If he does so, he may spin the bottle.  Whatever word the bottle lands on, he may discard that word from his own hand if he has it.  If he does not say the verse correctly, he loses his turn to spin.  The play moves to the next person.  The first person to get rid of their cards is the winner.
Tips for playing this Bible school activity:
You should encourage the players of this game to go quickly so that it doesn't lose momentum.  Also, the kids should be allowed to look at the spinner while saying the verse.  Lastly, if you use the Bible verse spinner with a longer verse, just break the verse up into 10 phrases along with the reference.  Have fun!
If you liked this Sunday School/Homeschooling idea, then sign up to receive Scripture Lady's Free Email Kid Tips packed full with creative ideas and receive 6 FREE Bible Review Games to help get the kids you minister to excited about the Bible! Just go to www.MyFreeBibleGames.com to fully subscribe.
Also, don't forget to "LIKE" me on Facebook. Just click on my Facebook logo to the right. Thank you!
If you're into Twitter, click on the cute little bird!
"…for the joy of the LORD is your/(my) strength."
Nehemiah 8:10