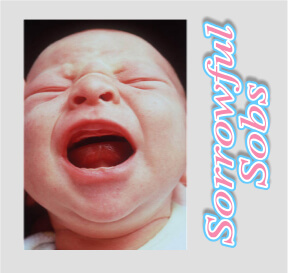 The Scripture Lady loves creating Bible object lessons for kids! Here is one called "Sorrowful Sobs ."
Exodus 3:7 says this: "I know their sorrows."  How comforting it is to know that our God cares enough about us to have compassion on us when we are full of sorrow.  Our children need to know this truth.  Childhood should be a time of great joy, but children experience pain too.  Here is a fun Bible object lesson to help them remember that God knows their sorrows too.
Bible object lessons for kids will help the Bible's truths come to life and for this one you will need to do the following:
The object you will use for this lesson will be a recording of a baby crying.  You can find a free download of this sound on the Internet.  Just Google: free recording of a baby crying.
Ask the following questions to help stimulate discussion:
1.     I am going to play the sound of something.  Who can tell me what it is?  (Wait for responses.)  That's right.  It's a baby crying.  It sounds very sad.
2.     Do you guys ever get sad?  What are some times you feel sad.  (Wait for responses.  You might want to share some times when you have been sad.)
3.     Ask a child to read Exodus 3:7.  I think this Bible verse is very comforting.  I am glad that God knows when I am sad.
4.     Let's learn a little more about this Bible verse and learn how to apply it to our own lives.  Here are 3 important points.
Point 1: Sometimes you will have days that are sad.  Sad things happen to everyone, but if you are a Christian the Bible says that Jesus knows all about your sorrows or sad things in your life.
Point 2: Jesus can be described in 3 different ways to help us know for sure that He cares for us and knows all about us.
1.     Jesus is our doctor.  If you are ever sick in any way you can trust that Jesus knows the best medicine to give you.  He knows your body inside and out.  He made you.  Always call on Him when you need His healing, inside or out.
2.     Jesus is your Master Potter.  A potter is a kind of artist that makes beautiful things from clay.  The Bible says you are like a piece of clay in the hands of God.  Even though difficult things happen in your life, God mold and shape those difficulties into your life so that something good comes from them.  Trust your life to Jesus the Master Potter and He will turn your life into something spectacular.
3.     Jesus is the Head.  Your head is at the top of your body.  It's where you do all your thinking.  Jesus wants to be the head of your body.  Let Him give you the thoughts that you should have.  Thoughts of joy to comfort your sadness, thoughts of love to cover over your pain. He knows and understands everything.  He knows you better than you know yourself.
Point 3: Trust in Jesus during your times of joy and of sorrow. He is the best Doctor, greatest Potter and the Head of the body.
This 3-Point Bible Object Lesson for Kids was inspired by my reading of C.H. Spurgeon's devotional on Exodus 3:7 from his book Morning and Evening.  You too can be inspired by your favorite Christian authors and come up with your own 3-Point Sermon for Kids.
If you liked this Sunday School/Homeschooling idea, then sign up to receive Scripture Lady's Free Email Kid Tips packed full with creative ideas and receive 6 FREE Bible Review Games to help get the kids you minister to excited about the Bible!
Just go to www.MyFreeBibleGames.com to fully subscribe.
Also, don't forget to "LIKE" me on Facebook.  Just click on my Facebook logo to the right.  Thank you!
If you're into Twitter, click on the cute little bird!
"For the wages of sin is death, but the gift of God is eternal life."
Romans 6:23