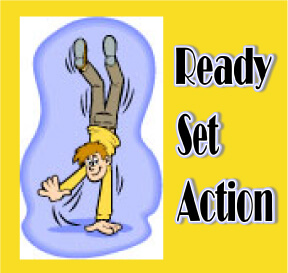 The Scripture Lady loves creating Bible lessons for kids! Here is one called "Ready, Set, Action!" to help learn about our bodies.
It's amazing what God has created our bodies to do.  And Scripture points out many of these great motions and actions.  Use this Scripture game to help your kids think about all the wonderful things we can do with our bodies.
Bible lessons for kids will help your children hide God's Word in their hearts and for this one you will need to do the following:
Have your children draw the outlines of their bodies onto large pieces of butcher paper.  Then have them write in creative ways with markers or crayons these following action words:  eat, sit, run, walk, hold, think, dream, and breathe.  They should write the words on the area of the body that pertains to that action.  Next, have prepared these Scripture references:
I Corinthians 10:31 (So whether you eat or drink or whatever you do, do it all for the glory of God.)
Psalm 139:2  (You know when I sit and when I rise; you perceive my thoughts from afar. )
Hebrews 12:1  (Therefore, since we are surrounded by such a great cloud of witnesses, let us throw off everything that hinders and the sin that so easily entangles, and let us run with perseverance the race marked out for us.)
2 John 6  (And this is love: that we walk in obedience to his commands. As you have heard from the beginning, his command is that you walk in love. )
Joshua 22:5  (But be very careful to keep the commandment and the law that Moses the servant of the LORD gave you: to love the LORD your God, to walk in all his ways, to obey his commands, to hold fast to him and to serve him with all your heart and all your soul." )
Philippians 4:8  (Finally, brothers, whatever is true, whatever is noble, whatever is right, whatever is pure, whatever is lovely, whatever is admirable—if anything is excellent or praiseworthy—think about such things. )
Joel 2:28  (And afterward, I will pour out my Spirit on all people. Your sons and daughters will prophesy, your old men will dream dreams, your young men will see visions.)
Psalm 150:6  (Let everything that has breath praise the LORD. )
Have the kids take turns finding each Scripture and then deciding what action each Scripture reveals.  Once they decide what action is being taken, you could instruct them to either write out the whole verse next to that body part in an artistic way or they could just write the reference.
How many other actions can your kids think up?  This activity also lends itself nicely to learning how to use a concordance.  God truly cares about all of our actions.  Let His Word show them just how true that is.
If you liked this Sunday School/Homeschooling idea, then sign up to receive Scripture Lady's Free Email Kid Tips packed full with creative ideas and receive 6 FREE Bible Review Games to help get the kids you minister to excited about the Bible! Just go to www.MyFreeBibleGames.com to fully subscribe.
Also, don't forget to "LIKE" me on Facebook. Just click on my Facebook logo to the right. Thank you!
If you're into Twitter, click on the cute little bird!
"Be joyful because you have hope. Be patient when trouble comes and pray at all times."
Romans 12:12