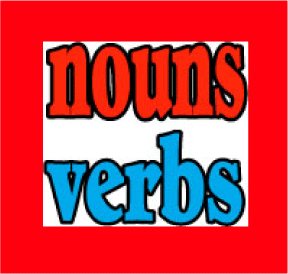 The Scripture Lady loves coming up with fun ways to tell Bible stories! Here is one called "Nouns and Verbs."
"Wait a minute, Kathy!" some of you may be saying.  "My kids go to school all week long.  The last thing they will want to talk about is nouns and verbs in Sunday school!"
But I say, "Oh, yes they will!"  You see, my good friend and mentor, Barney Kinard (www.kidhelper.com) taught me that in a Bible story, the nouns are your props and the verbs are the "message links to spiritual application."
Fun ways to tell Bible stories will help your children hide God's Word in their hearts and for this one you will need to do the following:
So, when you're getting ready to do some Bible story telling, get creative.  For example, what are the main nouns in "The Feeding of the 5,000"?  Well, there's bread and fish, a boy's lunch, baskets and LOTS of people.  Maybe you could bring in some Wonder Bread, some cans of salmon, some baskets from the house or thrift store and then have the kids picture a huge crowd like they would see at the baseball stadium.
Now, what are the verbs?  Here are a few:  Jesus asked the people to sit down, Jesus thanked God for the food, and Jesus gave the bread.  Now, take these verbs and focus on the message you want your kids to apply in their lives.
"The Feeding of the 5,000" is a great story to talk about thankfulness.  If the Son of God took time to thank the Father for His food, how much more should we?  Or how about pointing out the fact that Jesus asked the people to sit down rather than commanded them.  God gives us the choice to do what He asks of us – always the Gentleman.
Focusing on the nouns and verbs of a story has really helped me build my presentations.  Hopefully, doing so will help you too.
Just in case you're interested, you might want to check out this book with even more Bible lessons for your kids: Teach Them: 50 Fantastic Object Lessons for Children's Ministry
If you liked this Sunday School/Homeschooling idea, then sign up to receive Scripture Lady's Free Email Kid Tips packed full with creative ideas and receive 6 FREE Bible Review Games to help get the kids you minister to excited about the Bible! Just go to www.MyFreeBibleGames.com to fully subscribe.
Also, don't forget to "LIKE" me on Facebook. Just click on my Facebook logo to the right. Thank you!
If you're into Twitter, click on the cute little bird!
"Let us throw off everything that hinders us and the sin that so easily entangles us an let us run with perseverance the race marked out for us."
Hebrews 12:1