Let's GROW in God

 Bible video lessons for week eight will teach your children the importance of growing in their relationship with God.
Let's GROW in God Bible video lessons come from one of my Bible programs that I have been sharing for many years. Using the acrostic of the word GROW, your children will learn to grow in their relationship with God by G – going to church, by R – reading their Bible and pRaying every day, by O – obeying God's Word and putting it into practice and by W – witnessing or telling others about Jesus.
This week's FREE Bible video lessons will showcase one of my favorite Bible verse songs based on 2 Peter 3:18 all about growing in God's grace and knowledge. Each lesson will teach an important point of growing in God through my "cousin" Carmen, a fun Bible game, some songs and a Bible object lesson that I have shared countless times over the years.
The videos for Week Eight will be the LAST ones I am offering in this free series of videos since the Corona virus hit. Like all of us, I too am trying to find my new "normal" as I carry on with my ministry. I hope and pray the last eight weeks have been a blessing to you and your families. So…if you haven't signed up for any of the free videos, you have one more week to do it. Don't miss out!
You will have access to these FREE Bible Videos beginning Friday, May 8th at 7am (PST) via an email you will receive if you have subscribed.
In order to get the free videos, you will need to click on the big green button below.
HOWEVER, IF YOU'VE ALREADY SUBSCRIBED, YOU ONLY NEED TO DO IT ONE TIME:
Click HERE to Subscribe to The Scripture Lady's Lessons
IMPORTANT: The 8 weeks began on Friday, March 20, 2020. You may sign up at anytime over the next 8 weeks, but you will only get free access to the current week of lessons and the following weeks after your sign up date. You will not be able to access previous weeks of lessons.
You will only have access to what is on the page for the week's Bible lesson.
Take a sneak peak at the creative ideas that will be showcased in Week Eight's videos:
"Let's GROW in God"

"Grow, Grow, Grow" is a fun song that shares several different ways that we can be a good friend. We can be a good friend by being loving, giving, faithful and by praying for each special person in our lives.

"Grow, Grow, Grow" is a fun Bible verse song based on 2 Peter 3:18. God wants your kids to grow in His grace and knowledge. So, sing along and start growing!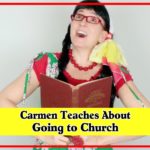 A Lesson for the Letter "G" – Going to Church
My "cousin" Carmen is going to play a little game to help your younger children learn some of the common things that are done at church.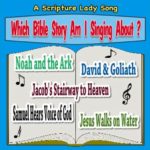 A Lesson for the Letter "R" – Reading the Bible
Are your kids learning some of the main stories in the Bible? I hope so! Here is a fun singing game I call, "Which Bible Story Am I Singing About." The children will listen to a song about a story in the Bible and will then be given two choices of stories and decide which story I just sang about.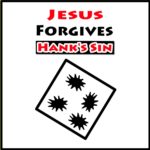 A Lesson for the Letter "R" – pRaying Every Day
Without a question, "Hank's Ugly Spots" is one of my all-time favorite Bible object lessons on the theme of prayer and sharing the gospel. I hope you kids will enjoy "seeing" Hank's sins washed when He believes in Jesus as his Savior.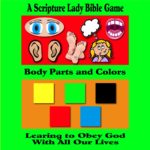 A Lesson for the Letter "O" – Obeying God
It's never too early to begin teaching your kids that they need to obey God. Here is a fun game that your kids can play along with The Scripture Lady to teach them to obey God with their bodies and all of their lives.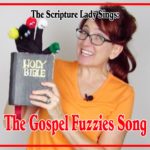 A Lesson for the Letter "W" – Witnessing to Others About Jesus
"Witnessing" is just a fancy word that means you tell others about Jesus. The Gospel Fuzzies LOVE to tell others about Jesus and they love kids. Hopefully, your kids will love them, too!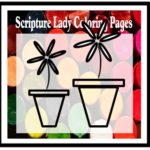 Remember this fun song? – Read your Bible and pray every day and you'll grow, grow, grow! Here's a coloring page to remind your kids of this truth.
If you liked this idea for sharing the Let's GROW in God Bible Video Lessons, then sign up to receive Scripture Lady's Free Email Kid Tips packed full with creative ideas and receive 12 FREE Bible downloadable resources to help get the kids you minister to excited about the Bible! Just go to www.MyFreeBibleGames.com to fully subscribe.
Also, don't forget to "LIKE" me on Facebook. Thank you!