Jesus Helps Me Be a Friend

 Bible video lessons for week seven will teach your children the importance of friendship through creative songs, games and puppetry.
Jesus Helps Me Be a Friend Bible video lessons will help your children learn that Jesus wants them to be a good friend. Friendship is such an important part of  life. Jesus wants to be our friend and He wants to show us how to be friends to others throughout our whole lives.
This week's FREE Bible video lessons will showcase my "cousin" Carmen who will sing about her "amigos". The children will learn a bit more about each of our Lord's 12 wonderful friends, the Disciples. Scooter will learn from Scripture Granny that he needs to forgive his friend who chewed up his favorite toy and the kids will learn that a little pizza and some consideration can go along way to bless their friends.
You will have access to these FREE Bible Videos beginning Friday, May 1st at 7am (PST) via an email you will receive if you have subscribed.
In order to get the free videos, you will need to click on the big green button below.
HOWEVER, IF YOU'VE ALREADY SUBSCRIBED, YOU ONLY NEED TO DO IT ONE TIME:
Click HERE to Subscribe to The Scripture Lady's Lessons
IMPORTANT: The 8 weeks began on Friday, March 20, 2020. You may sign up at anytime over the next 8 weeks (at least), but you will only get free access to the current week of lessons and the following weeks after your sign up date. You will not be able to access previous weeks of lessons.
You will only have access to what is on the page for the week's Bible lesson.
Take a sneak peak at the creative ideas that will be showcased in Week Seven's videos:
"Jesus Helps Me Be a Friend"

"Help Me Be a Friend" is a fun song that shares several different ways that we can be a good friend. We can be a good friend by being loving, giving, faithful and by praying for each special person in our lives.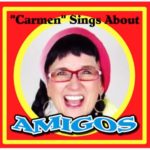 My "cousin" Carmen loves singing about the different kinds of friends she has and where each of them works. This salsa-esque song will delight your children as they learn about Carmen's wonderful friends that Jesus has blessed her with.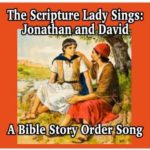 Perhaps one of the greatest stories in the Bible about friendship is that of Jonathan and David. Their story is a great example of 2 friends who cared about each other and were even willing to lay down their lives for one another. This "Bible Story Order Song" will teach your children about 6 main parts of their historic friendship.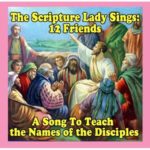 Do your kids know the names of Jesus' 12 closest friends? If not, let them sing this song and they will be off to a good start. This song will present one to two details or clues about each of the 12 Disciples. Your child will then get to guess which disciple was just sung about. In no time at all, they will know all 12 of Jesus' good friends.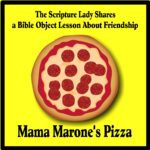 "Mama Marone's Pizza" is a fun Bible object lesson that I have been sharing for several years now. It's a creative way to share about friendship and how we all need to be aware of our friends' likes and dislikes.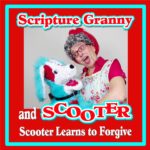 Scooter has just made a new friend. However, recently, Scooter's new friend chewed up his favorite toy! Will Scooter stay mad at his new friend or will he forgive him just as Jesus forgives us when we do the wrong thing? Have your children watch to find out.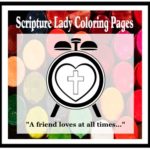 Here is a fun and simple coloring page that shares Proverbs 17:17, which says: "A friend loves at all times…." (NIV)
If you liked this idea for sharing the Jesus Helps Me Be a Friend Bible Video Lessons, then sign up to receive Scripture Lady's Free Email Kid Tips packed full with creative ideas and receive 12 FREE Bible downloadable resources to help get the kids you minister to excited about the Bible! Just go to www.MyFreeBibleGames.com to fully subscribe.
Also, don't forget to "LIKE" me on Facebook. Thank you!