Bible story pictures for the story of Esther will help your children learn about this brave woman who lived for God.
These Bible story pictures for the story of Esther are perfect to share with your children while telling them this amazing true story of courage in the face of trying times and even possible death. These pictures will help your kids understand that Esther experienced fear just like they do at times. Esther had fears she had to face, but she faced them with God
The story of Esther is found in the book of Esther. It is about the life of a young Jewish girl who gets caught up in the political intrigues of the kingdom of Persia between 483 BC to 473 BC. Through a series of interesting circumstances, Esther becomes the Queen of Persia. Some time after, a very ruthless man named Haman tries his best to eradicate all the Jews within the kingdom. But through a great deal of prayer encouraged by her uncle Mordecai, Queen Esther exposes Haman's evil plans to the king who helps the Jewish people defend themselves against such tyranny.
While you and I and our children might not be thrown into a life or death situation as Queen Esther experienced, we all know what it means to be afraid. Many of us know what it is like to be persecuted for our faith in Jesus, even if only in small amounts. The story of Esther gives an astounding example of how we all need to rely on God during trials and difficulties. God wants us to seek Him for our deliverance out of all fearful circumstances. When we do this, I believe that He will rescue us in His own time and way.
Psalm 34:4 is a beautiful verse that shows this truth: "I sought the LORD, and he answered me; he delivered me from all my fears."
The Bible story pictures for the story of Esther come from a great resource which I purchased several years ago. They come from a 2-DVD collection called "The Ultimate Bible Picture Collection." All of these pictures are found in the public domain.
Along with the Bible story pictures for the story of Esther, I want to introduce you to a song that I wrote that highlights the main points of this great story. I call it "Esther's Pretty."
Take a look at the sample video of this song:
Click HERE to learn how to purchase the downloadable song and video of "Esther's Pretty" for only $2.49.
By the way, before you scroll down for the Bible story pictures, you might want to sign up to receive information about my LIVE Streaming Bible Programs.
No matter if you are in my own backyard of Southern California, USA or somewhere in New Zealand, you can sign up to have me creatively share the Bible with your children.
Sign Up for MORE Info about LIVE Streaming Bible Programs
As a "Thank You" for wanting to find out more about my LIVE streaming programs, I will give you a FREE downloadable video of my newest Bible Story Stick presentation called "The Power of God."
Please enjoy the Bible story pictures for the story of Esther below and share them with all the children you know. Just click on each picture in order to download it or print it.
Bible Story Pictures for the Story of Esther
The following story is based on the scriptures from the book of Esther. I encourage you to find a retelling of this story for younger children and share the pictures while you read the story.
Picture 1 
King Xerxes holds a banquet. – Esther 1:1-3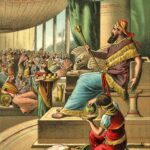 Picture 2 
Queen Vashti is banned from the king's presence. – Esther 1:19-20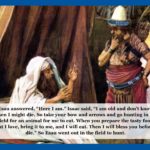 Picture 3 
Esther is placed in a search for beautiful young girl to become the new queen. – Esther 2:1-3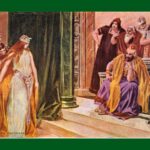 Picture 4 
Esther gets her beauty treatments. – Esther 2:3-4
Picture 5 
Mordecai and Esther are cousins. – Esther 2:5-7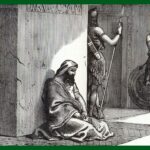 Picture 6 
Esther becomes queen. – Esther 2:17-18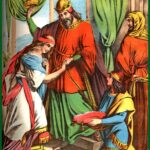 Picture 7 
Mordecai overhears the plot to destroy the Jewish people. -Esther 2:19-23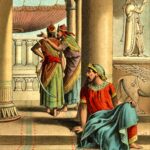 Picture 8 
Haman is promoted by the king and wants to kill all the Jewish people. – Esther 3:1-11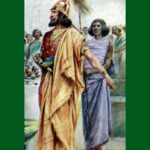 Picture 9 
King Xerxes signs a treaty against all the Jewish people. – Esther 3:12-18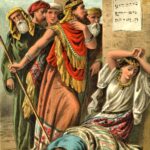 Picture 10 
Mordecai and the Jewish people mourn because they have been chosen to be killed. – Esther 4:1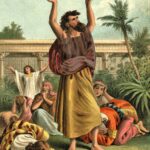 Picture 11 
Esther is challenged to help the Jewish people. – Esther 4:8-14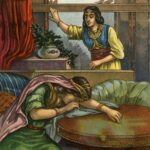 Picture 12 
Esther accepts the challenge to help the Jewish people. – Esther 4:15-17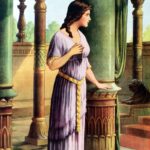 Picture 13 
The king allows Esther to be with him. – Esther 5:1-3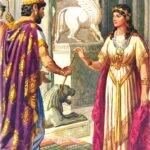 Picture 14 
Esther invites the king and Haman to a lunch. – Esther 5:4-8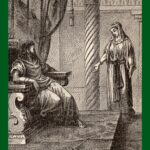 Picture 15 
Haman builds the gallows. – Esther 5:14-15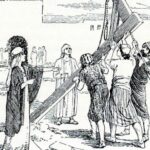 Picture 16 
King Xerxes cannot sleep and learns about Mordecai's good deeds – Esther 6:1-3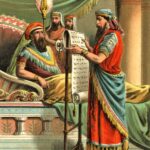 Picture 17 
Mordecai is honored by the king. – Esther 6:10-11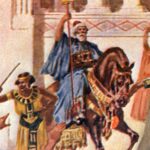 Picture 18 
Haman complains to his wife and friends. – Esther 6:12-13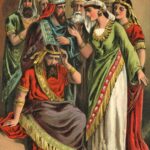 Picture 19 
During a third lunch, Esther tells the king that Haman is plotting to destroy all the Jewish people. – Esther 7:1-8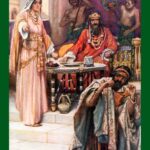 Picture 20 
Haman is killed on the gallows he built for Mordecai. – Esther 7:9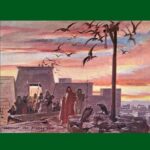 If you liked this idea for sharing Bible story pictures for the story of Esther, then sign up to receive Scripture Lady's Free Email Kid Tips packed full with creative ideas and receive 12 FREE Bible downloadable resources to help get the kids you minister to excited about the Bible! Just go to www.MyFreeBibleGames.com to fully subscribe.
Also, don't forget to "LIKE" me on Facebook. Thank you!